So obviously, the older we get, the less thrilling our birthdays become. It becomes less about cake and presents, and more about examining the mirror for wrinkles that have managed to rear their ugly heads while we weren't looking.
I must now beg to differ. My birthday this year has blown that theory to bits. Thanks to my wonderful friends & family (and the amazing weather), I have had the most amazing birthday weekend ever.
Friday was a laid back day. The weather was beautiful, and I headed to Pulaski to visit with my family, and have a bite to eat at Reeve's Drug Store on the square. It's always a bummer when Will can't go with me to Pulaski, because he LOVES it there, especially the square. He thinks the square looks like something out of "Back to the Future", and always- ALWAYS- wants to go 88 mph. Silly Brit.
Saturday I awoke to
another
beautiful day, and met up with one of my best friends, Mark. We headed to Nashville for a photography class being taught by Justin Wright ( a
great
wedding photographer from what I've seen). You can look him up on Facebook. He definitely taught us a thing or two in the area of cameras. I think he might have completely exorcised our desired to ever use the "auto" mode on our DSLRs again. Hallelujah.
Justin Wright, our fabulous instructor~
Mark testing out his skills~
Being thoroughly schooled on our cameras helped us work up quite an appetite, so Mark & I headed down to The Frothy Monkey for a seriously good lunch. Seriously.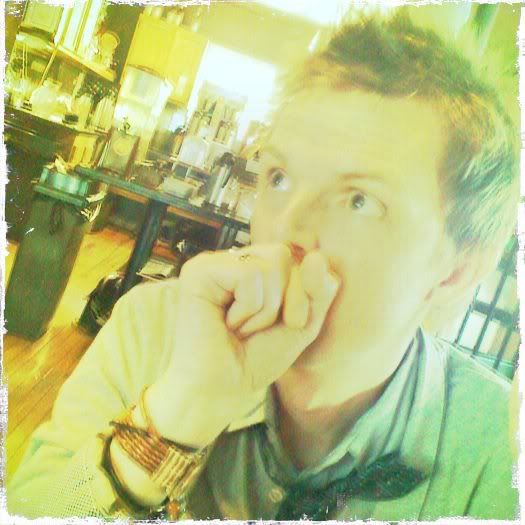 My lunch date~ photo taken with my Hipstamatic iPhone app. Coolest little $2.00 app you'll ever buy! Produces amazing vintage looking photos!
So Mark and I finished our lunch, made a quick stop at Dury's (where "somebody" bought themselves a new birthday lens), and then headed back home. Of course, I had to take the new lens for a little spin around the neighborhood.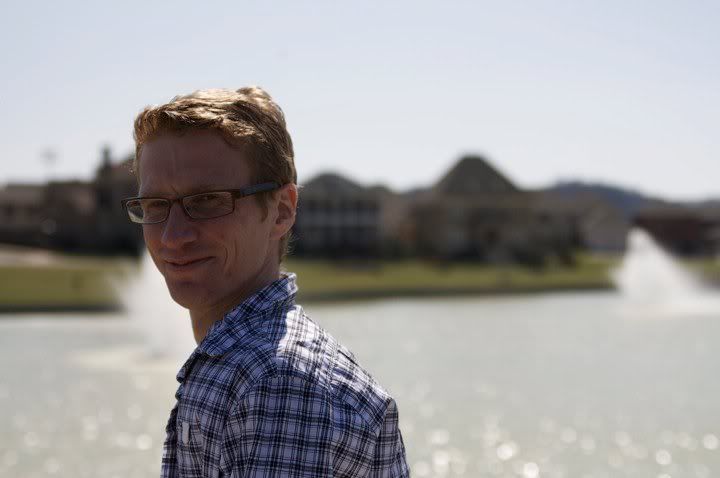 Will and I went out for a delicious birthday dinner at J. Alexanders (crab cakes!!), and then I got the BIG birthday present!!
**Photo with hipstamatic**
Holy Moly
what a piece of equipment!! I think it may be mild to say that I'm a little spoiled. I just hope to get good enough at photography that this camera doesn't say "blegghh" and reject me. The weather forecast for this week might as well read "Yep, Angela will be outside ALL day playing"...
We did a little experimenting that night with "light drawing". That will keep a couple of cheeky gits entertained for a couple of hours.
Today my sweet Brit sent me these:
As if he should have possibly done
anything
else for my birthday! What an overly lucky girl!
So, like I said, what a birthday! And thanks to all of you who made it, and each day, so great!! Enjoy the sunshine!!!