Will & I are so fortunate to live where we live. We have a wonderful home, but more importantly we have wonderful neighbors. Loads of them. Surrounded by them. Javier & Anne (and their two gorgeous kids Marco & Esperanza) live right beside us. Javier is originally from Miami, and his entire family is Cuban. This man can cook. Now, my man can cook too, but Cuban food is entirely different than the delicious food my Brit whips up. Javier has talked for a while about having a proper Cuban pig roast. It's a big ordeal. Apparently it has to be done either in a pit that is dug into the ground or in a big raised pit built out of cement blocks. Knowing how much effort is required, I tried not to get my hopes up about ever being part of an authentic pig roast.
BUT IT HAPPENED!
The weather got nice, and I began hearing talk from next door of having a block party. That soon evolved into making plans for a pig roast. You have never seen so many enthusiastic men in a one mile radius as you could then find in our neighborhood. It was like being stuck in the studio audience of "Tool Time"- lots of grunting and testosterone. You start talking about open fires and cooking a whole pig, and the boys get excited!
The planning began. The boys all gathered up and made a trip to buy the blocks & haul them home. The next day they began building the "pit" and prepared & marinated the pig, which was laid out on a big table in Javier & Anne's garage. I'm pretty sure I heard some comparisons of that scene looking like something from "Dexter". I was unfortunately (or fortunately?)at work during that part so I didn't get to see that.
This past Saturday was the date of the big roast. Javier endearingly termed the event "2010 Porkers in the Alley- Destined to Become a Classic". This was a huge deal. Fliers had been distributed. The pig and pit were ready. The boys had lots of cold beer on hand (and I believe started drinking it pretty darn early). All the neighbors pitched in and brought chairs, tables, and side dishes.
It was a HUGE success! Big props to Javi and the boys in the hood for pulling this off. Everybody had a great time!! And we can't wait for next year's celebration! Do we have to wait until next year???
Here are some pics that Will & I took during this great (and hopefully annual) Tollgate event: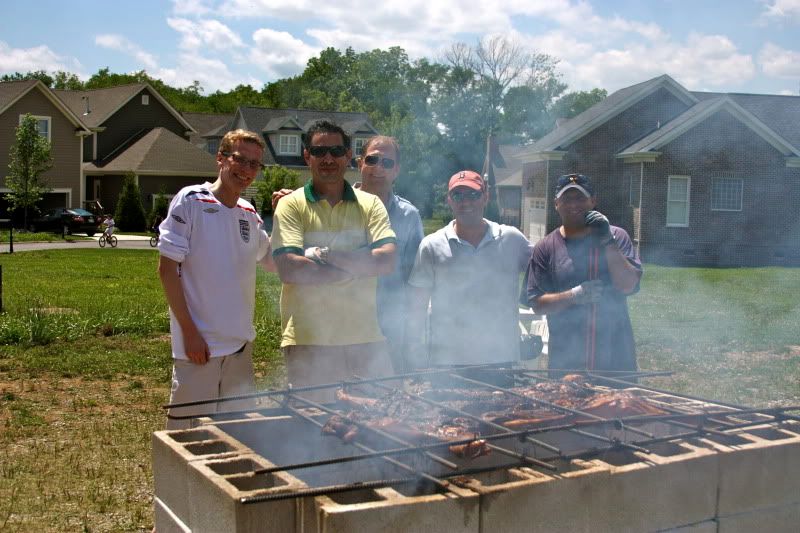 The testosterone crew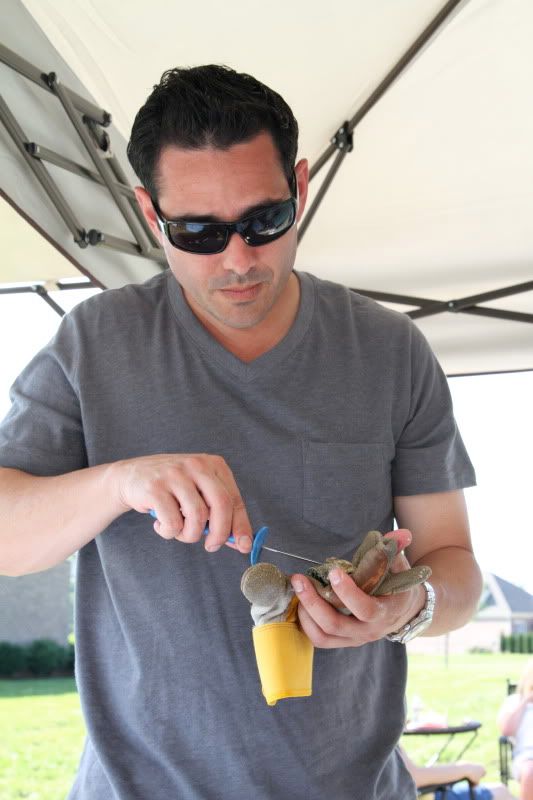 Javier- our resident Cuban and master planner!