There's been quite a change in the weather since last weekend. Since the rain stopped on Sunday, we've had several days of beautiful sunshine, which is a good thing for all of those trying to recover from the devastating losses of the flooding! The photos of the damage done in Nashville (and surrounding areas) have been jaw-dropping. If you would like to support disaster victims, and get an awesome t-shirt in the process, you might want to give this website a glance:
Nashville Flood Relief Shirts
The Brit and I have taken advantage of the beautiful weather this weekend. Yesterday we packed up the car and headed south to Pulaski. First stop was my parents house. My mom surprised me with a beautiful gift for my "first" Mother's Day!
I've decided that she might be just a 'little' excited about her new grandbaby. And I don't mind that one bit :) I took our doppler along yesterday too, she my mom, dad & grandmother all got to listen to Baby Brit's heart beat. My dad said "Wow, sounds like a dog barking really fast". Keep in mind, this is the same man who said the baby looked like a crawfish in the first ultrasound picture. I love his comparisons! We decided that all of us would head out to Limoland, which is a local farm/nursery in Pulaski. But first, Will & I headed down the road for a minute, so I could snap some photos of my grandfather's old barn. My brother and spent hours playing in here when we were kids, climbing up to the hayloft, exploring, and just generally being kids. With time (and with the lack of a 'true' owner to maintain it), the old barn is really showing it's age. While it kind of makes me sad to see it in the kind of shape it's in, I also strangely find some sort of beauty in a building like this, sagging under the weight of elapsed time...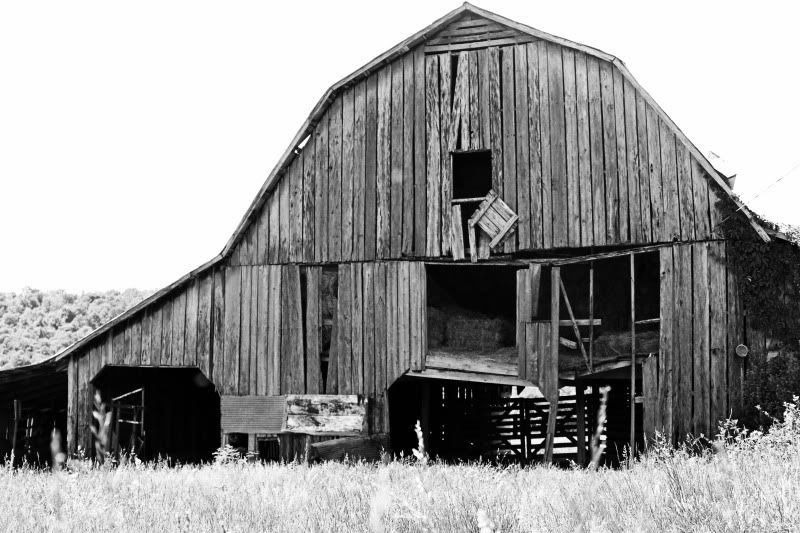 So off we went to Limoland. Limoland is one of those places that I hope Giles County is really thankful to have in it's midst. In the fall, they have fields of pumpkins that you can wander amid, beautiful mums, and hayrides for kids. This time of year, you find yourself lost in a sea of beautiful flowers and foliage, and well as a whole team of knowledgeable farmers to help guide you in your plant selection. What a great family that runs this place!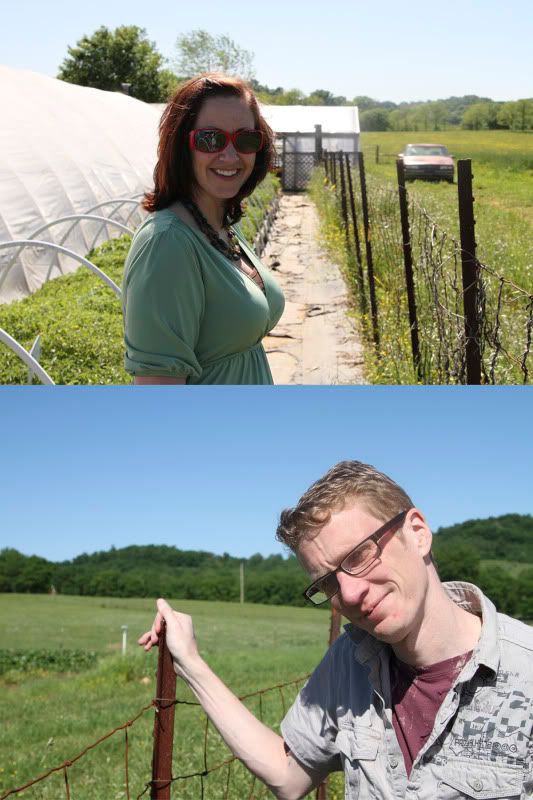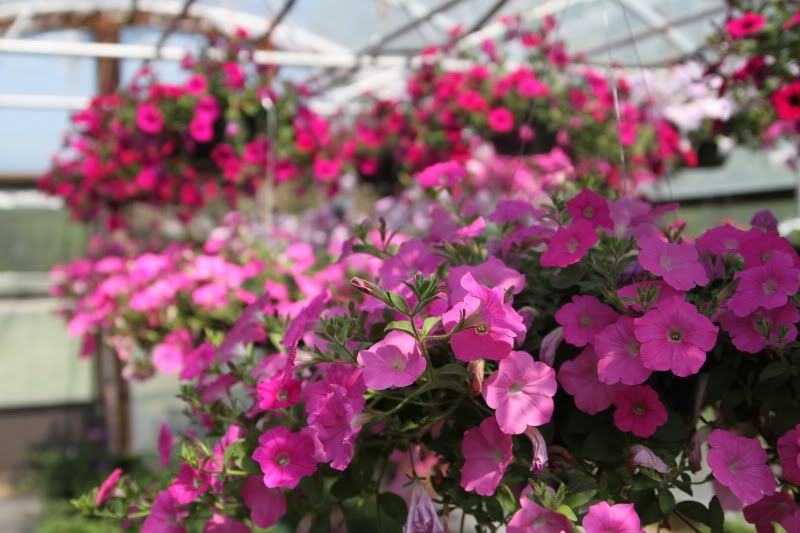 Flowers inside one of the many greenhouses (last photo by Will)...
Rows and rows of tomato plants...
One of the BEST things about going to Limoland this time of year is the strawberry patch! You can buy pints of pre-picked strawberries (which I'm sure are just as delicious), but that just kind of takes the fun out of it, doesn't it? Besides, my Brit wanted to get his hands a little dirty, and as he put it, feel like a "real country boy", so out to the strawberry patch we went.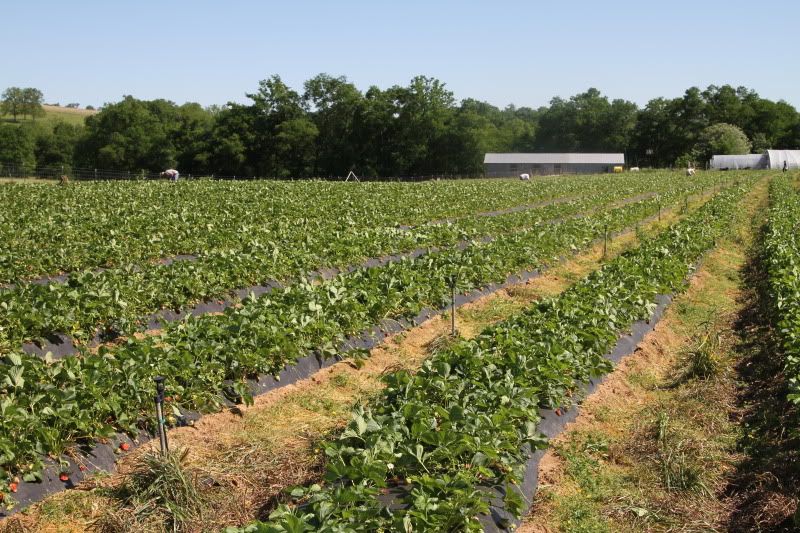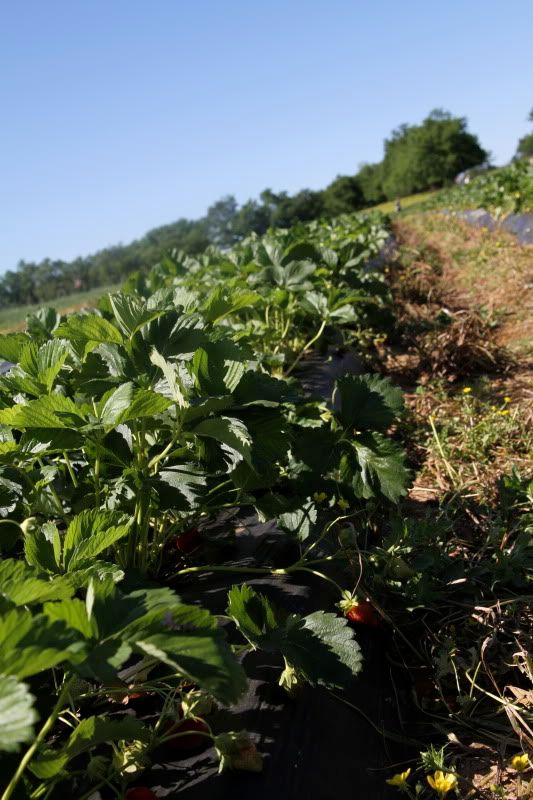 And here's a photo of the fruits of our labor (literally). Delicious!
So after all of our visiting, and flower perusing, and strawberry picking, we headed back up to Thompson's Station yesterday evening. What a good day. Beautiful weather, time with my family, strawberries, flowers, and a whole day with my Brit. But he had just one more thing in store for me. I got an amazing Mother's Day card from Will, Baby Brit, and all of our furry babies, as well as the COOLEST BABY ITEM ON THE FACE OF THE EARTH. I'm not kidding. It really is.
Will also got me this maternity t-shirt that I saw online and thought was hilarious. I can't wait to wear it!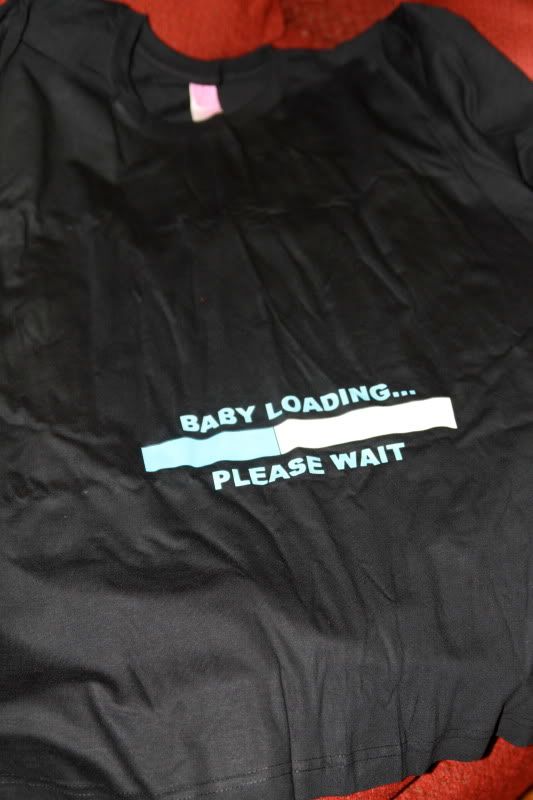 I guess I wouldn't be doing my motherly (to-be) duty if I don't update you on Baby Brit's size for the week! This week, Baby Brit is the size of:
Now the size of sweet potato, Baby Brit is definitely moving on up in the produce department! Only two more weeks until we get to find out if Baby Brit is a baby girl Brit or a baby boy Brit! It seems unreal that we're getting close to being halfway through the pregnancy!
Hope you all have had an amazing week, and we'll post more soon!