Will & I have now officially assembled our first piece of baby furniture. We were pretty impressed with ourselves because #1, we didn't have any parts left over at the end of assembly and #2 because it didn't disintegrate into a million pieces when we moved it across the room! Hooray for geeks with allen wrenches! I'm going for kind of a whimsical/vintage look in Henry's nursery, and I think this crib will fit in with the decor nicely. Here is a little documentation of the empty nursery and of the crib assembly process: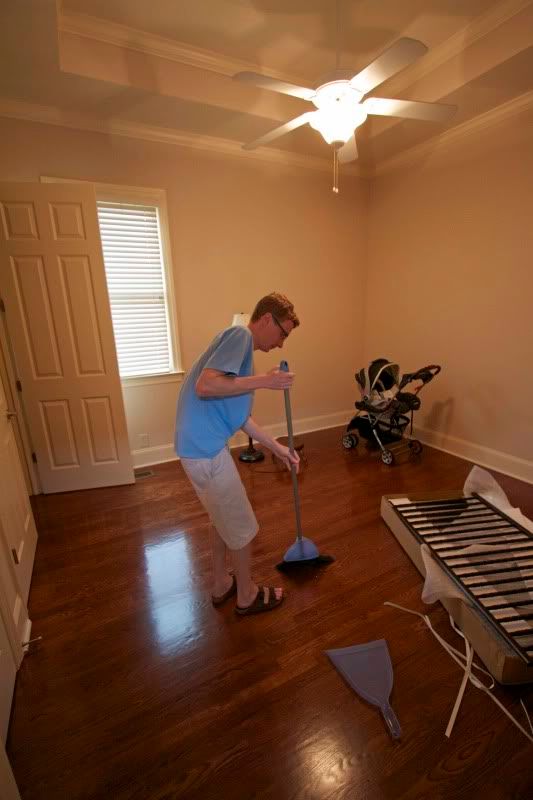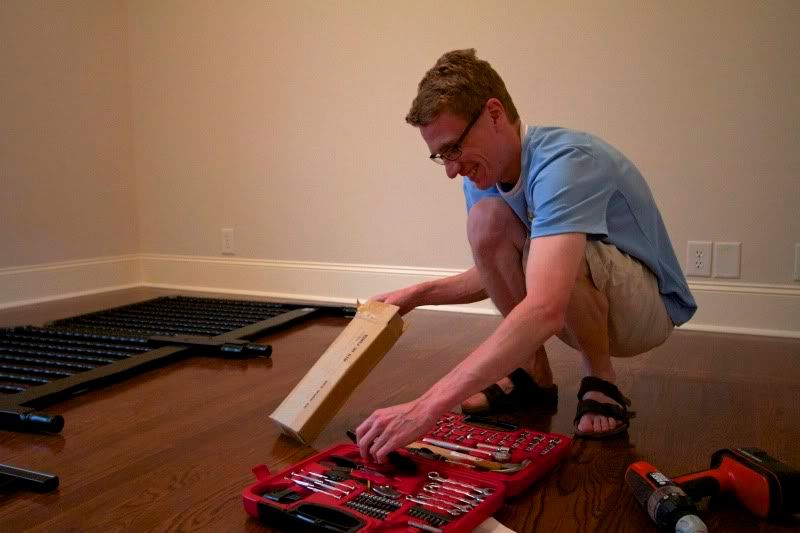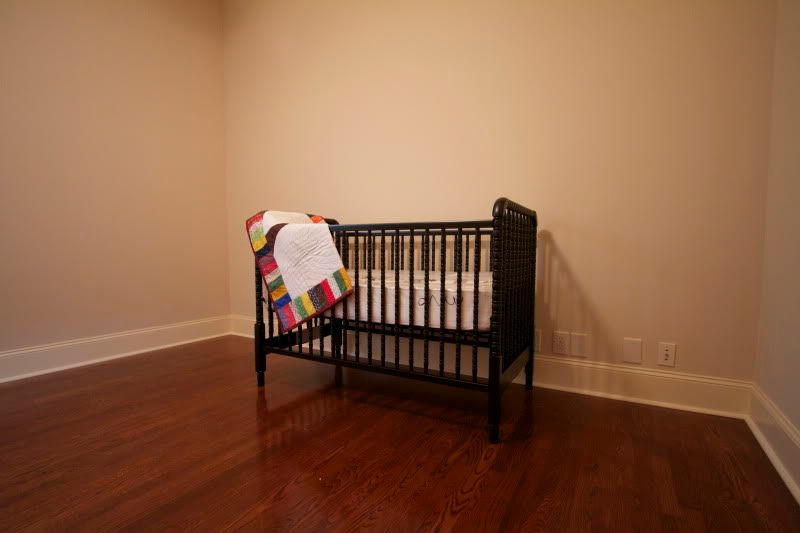 Here's a little close-up of the crib detail. This crib has such an antique feel to it!
Here's a picture of Henry's dad doing what he calls "practicing"... I'm pretty sure he's going to be the world's best dad!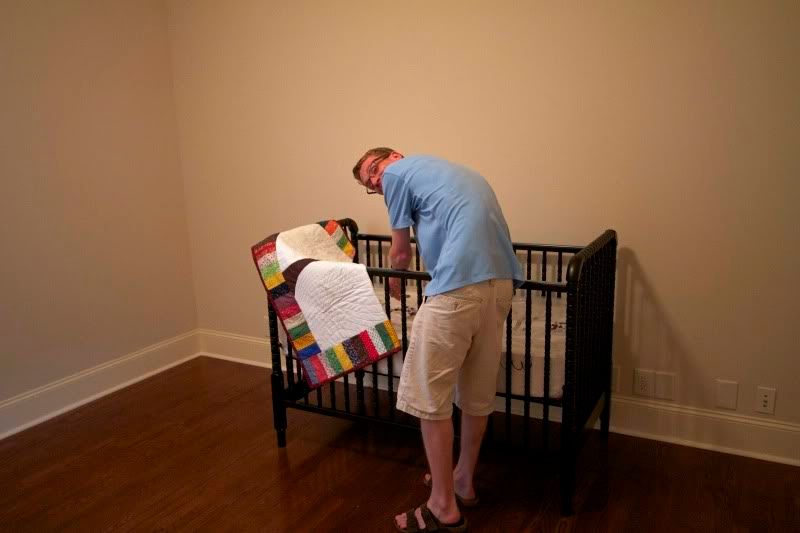 So now we have a grand total of 2 things in the nursery. Henry's crib and Henry's carseat/stroller. And right now both things are topped off with a layer of aluminum foil. What? You think that's weird? Well, it's with good reason- supposedly, cats will not jump onto surfaces covered with aluminum foil, so we're going to try to convince the cats now, before Henry's arrival, that the nursery is a very un-hip place to play. I will say, the foil gives our nursery quite a modern edge.
Last week one of my good friends (and neighbors), Jess, met me at Textile Fabrics in Nashville for a fabric search for baby Henry's room. One of her friends will be making my curtain panels for the nursery, and a sweet lady who works at the fabric store will be making Henry's bedding. So all that was left for us to do was to find the perfect fabric. When we walked in the store, I knew they had the fabric I was picturing in my head, it was just a matter of finding it. Henry's nursery doesn't have a specific theme other than the fact that the inspiration for the vintage/whimsical look is this quilt that I bought from etsy.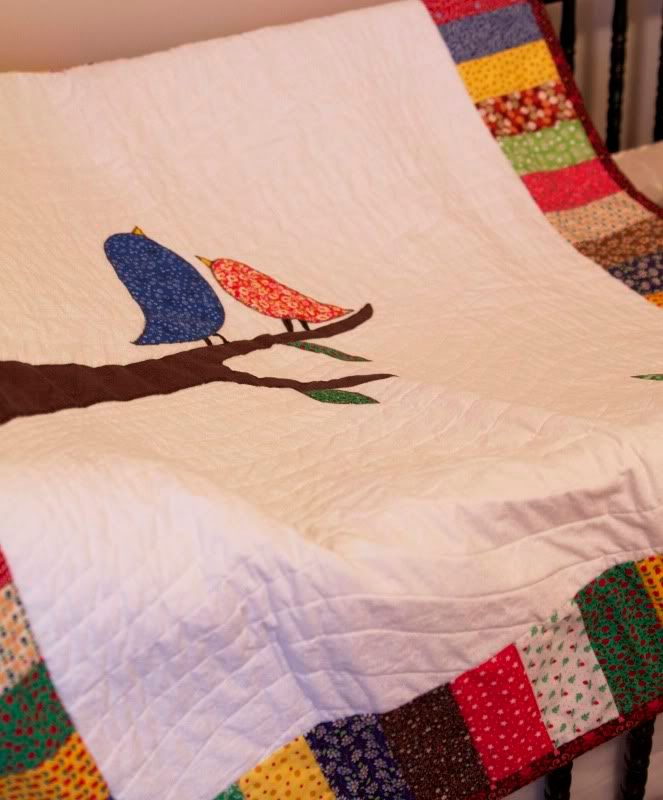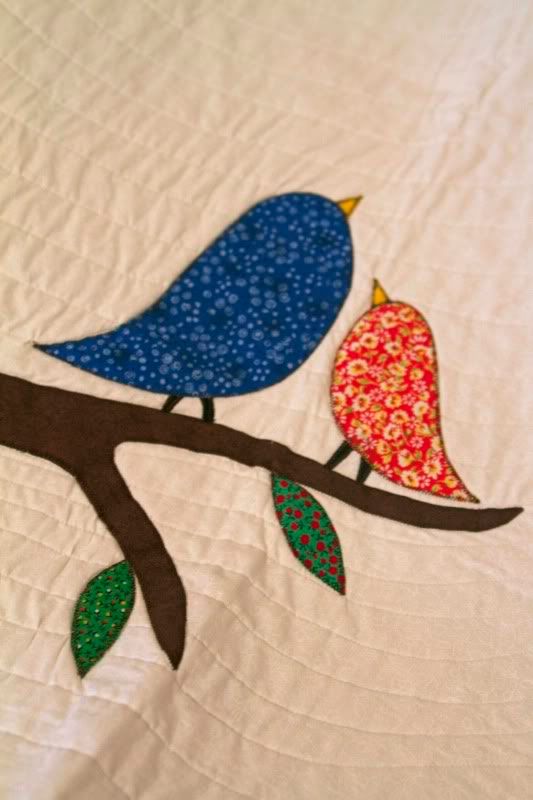 We fell in love with the sweet little birds that are in the center of the quilt. After browsing around the fabric store for an hour or so, Jess and I ran across this fabric:
I think it's going to be perfect for Henry's drapes! The fabric for the bedding has similar colors, and has a precious vintage owl design. I forgot to take pictures of that, however, before surrendering it to Emily (who is making the bedding). It should be ready in a couple of weeks and I can't wait to see it. Once we get the drapes and bedding, then I can start making a decision about wall color :)
As of today, baby Henry and I are 22 weeks and 4 days into the pregnancy. I'm still feeling good, although the amount of heartburn I'm having every day is outrageous. Tums are my daily hero. I'm up a total of 12.5 pounds, which is right on track for this point in the pregnancy. Henry's little movements are getting more consistent. He gets pretty active around dinnertime each night, and on Sunday night Will was actually able to feel him moving around for the first time! He immediately displayed the smile of a proud Papa!
This week Henry is about 11 inches long, a about 1.2 pounds, and is the size of a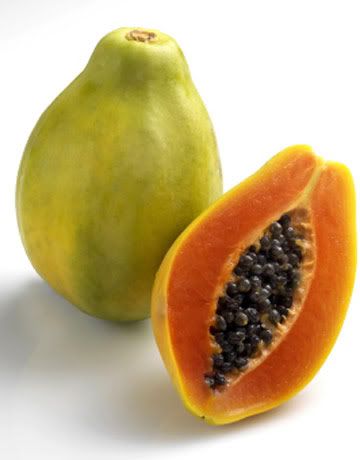 papaya! We were walking through Publix on Sunday and I spotted a papaya in the produce section. That sucker looked pretty big! I can't believe how much our little poppyseed has grown!!