Today we took young Henry for his second visit to Dr. MeNeely's office for his 8 week appointment (although he won't actually be 8 weeks old for 5 more days). The good thing about the doctor's appointment was that our wise old doc was able to give Henry the once-over and assure us that we are doing a top notch job of growing and caring for this little human. The bad thing about the doctor's appointment (at least from Henry's perspective) was that today was his first full round of immunizations. Both baby and Mama survived without too much trauma.
Henry got the standard treatment today of being weighed and measured. He is up to a whopping 13 pounds 5 ounces (from a birth weight of 8 pounds) and is now 24 1/2 inches long (up from 22 inches at birth)! I think we can safely say that breastfeeding is agreeing with him!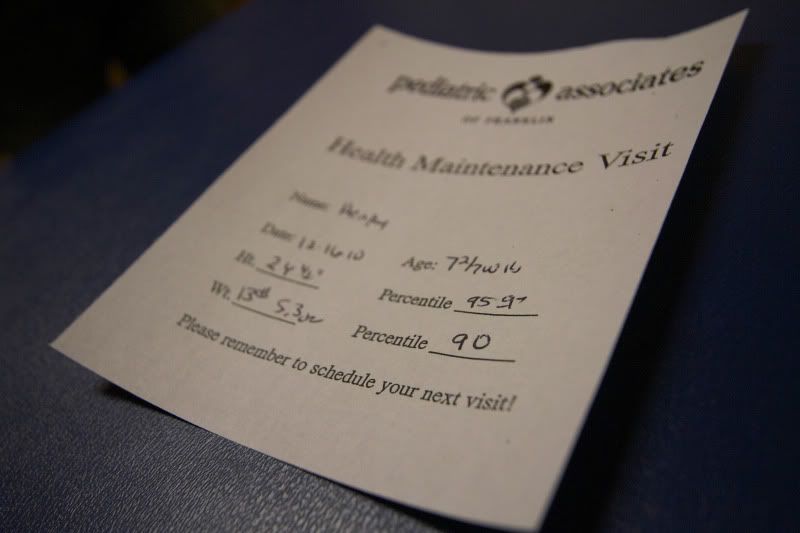 Henry really pulled out all the stops for Dr. MeNeely today and showed off all his new baby skills. His baby resume now includes notable accomplishments such as:
-sleeping in 4 & 5 hour increments at night (YES!!!)
-bearing weight on his chubby little legs
-pushing up with his arms when lying on his tummy
-smiling his adorable little gummy smile
-following things with his eyes
-awesome head control
-making impressive spit bubbles
-laughing at his Daddy's dancing
Henry got to see his first snow this week. Unfortunately we don't have any adorable snow pictures of him to post. Despite his very adequate layer of built-in insulation (aka fat rolls), his Mama just felt like it was too cold to get him outside, so he only saw the snow through the window. Poor Norman the Gnome thought it was too cold to be outside too.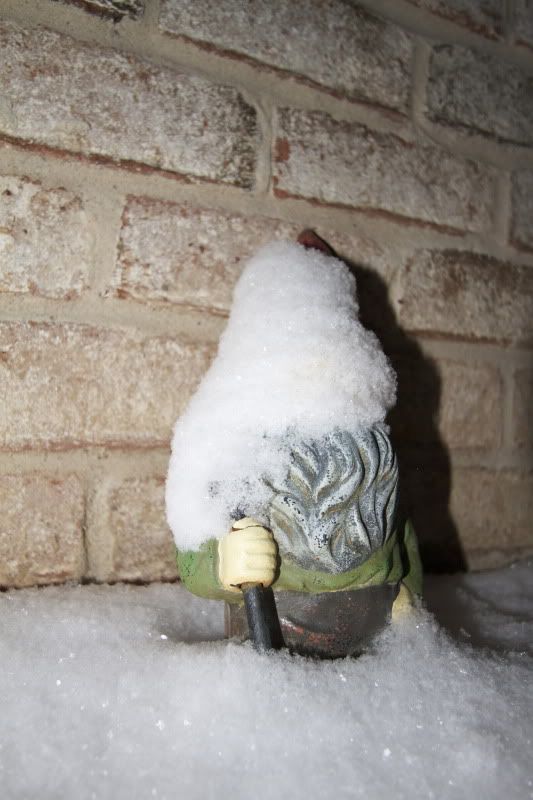 But no matter how cold the weather is, some things still manage to warm the heart.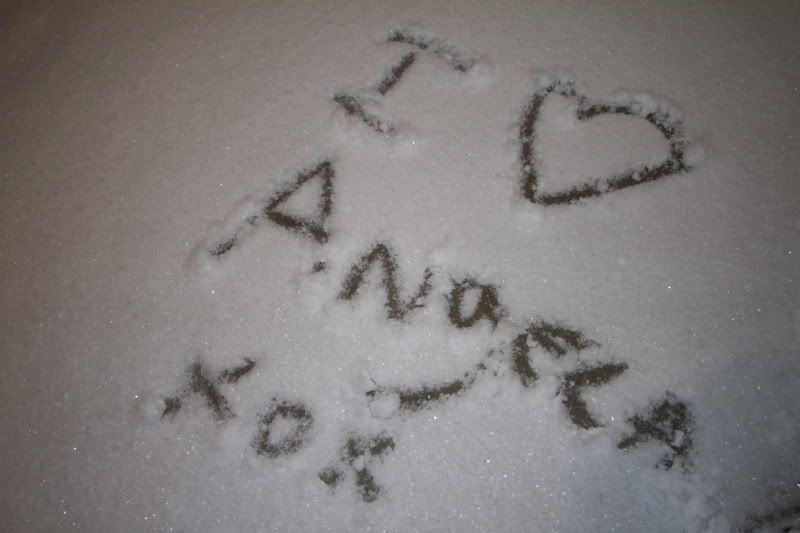 Henry's new Christmas stocking arrived this week, so our mantle is finally complete. His little stocking is now hanging with his Mama & Daddy's, and of course the ones belonging to all his furry brothers and sisters.
Henry and I try to get out of the house at least once a day. Over the weekend we went for a little visit at my brother's house. Henry is not sure what he thinks of his Uncle Nick.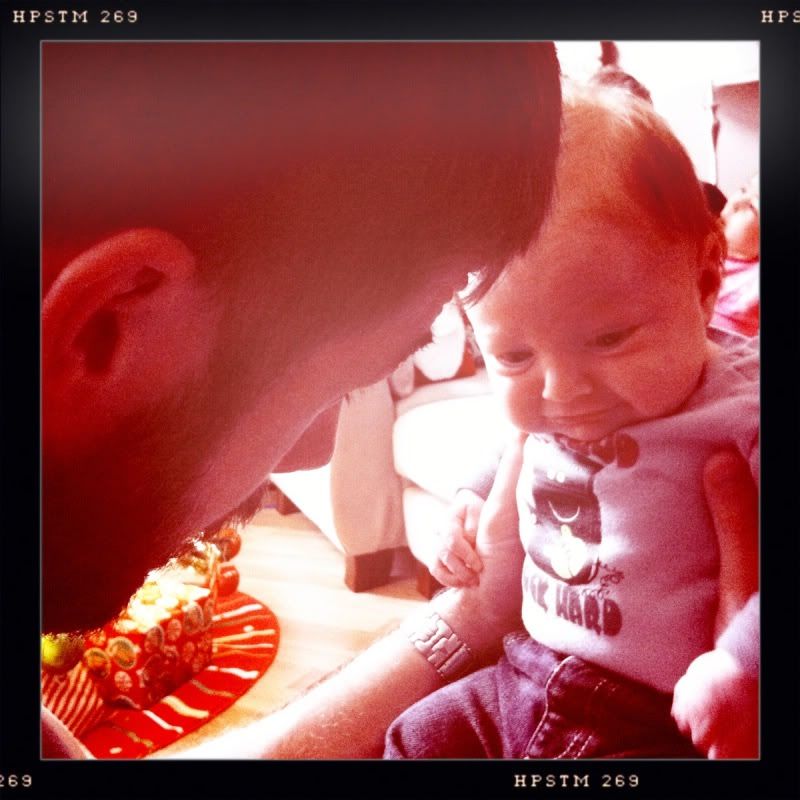 Yesterday we went over to my friend Meredith's house. Meredith had her baby girl, Emerson, 2 weeks after Henry was born. Yesterday was what I like to refer to as their "first date". Henry looked absolutely massive in comparison to Emerson! Illustration: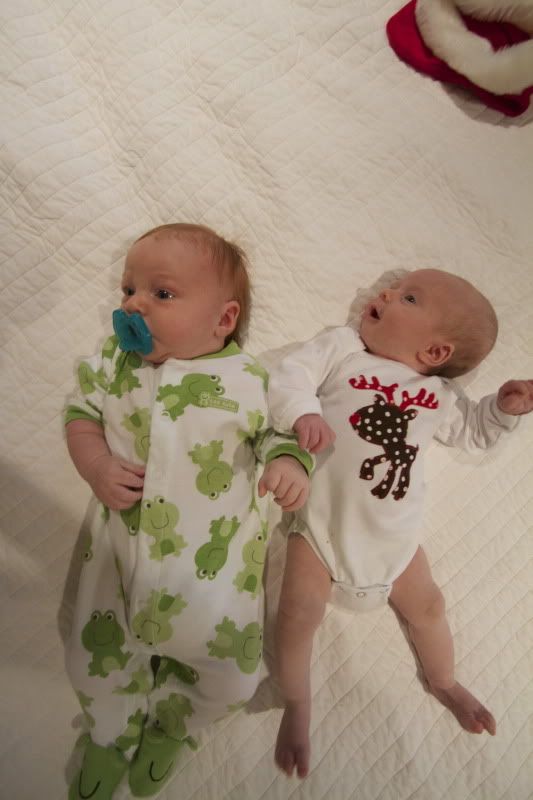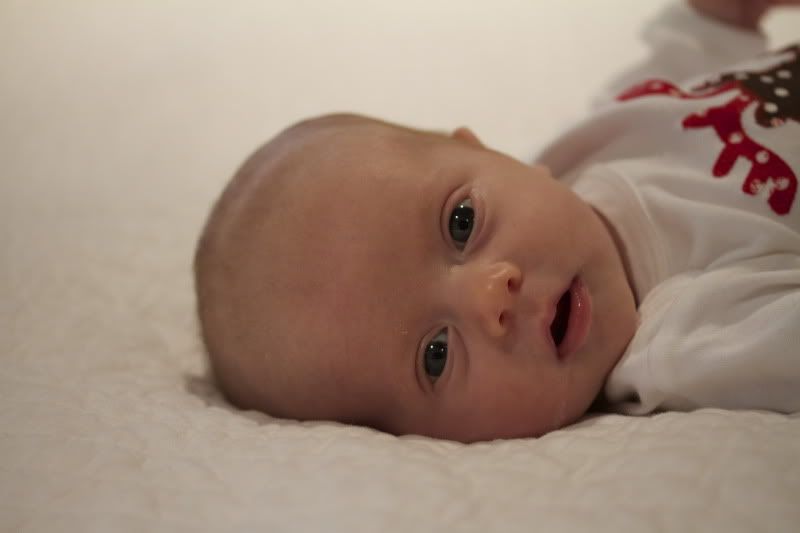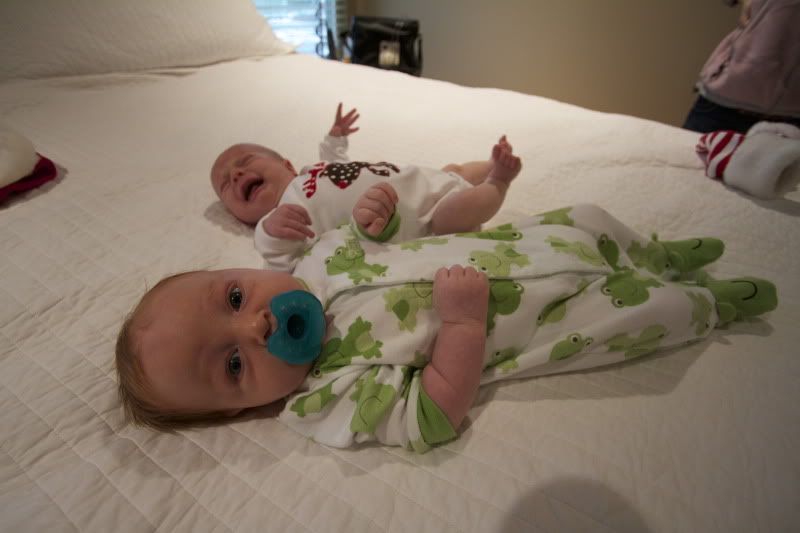 We also went yesterday to get Henry's passport application processed so that he can make his first trip to England. Of course, before we could do that, we had to get his two "regulation" photos made- white background, with his eyes open, and no part of Mama or Daddy showing in the photo. What? This is no easy task to accomplish when you're working with a 7 week old subject. Thank goodness for the talented guy at White's Camera Shop in Columbia who got not one, but TWO acceptable photos for us to choose from. This is the hilarious photo that didn't make the cut:
Bathtime has become MUCH less traumatic at our house. If I had to guess, I'd say Henry is even starting to enjoy it a little. And he's MUCH more fun to bathe than the dogs (and usually less stinky than the dogs-usually)...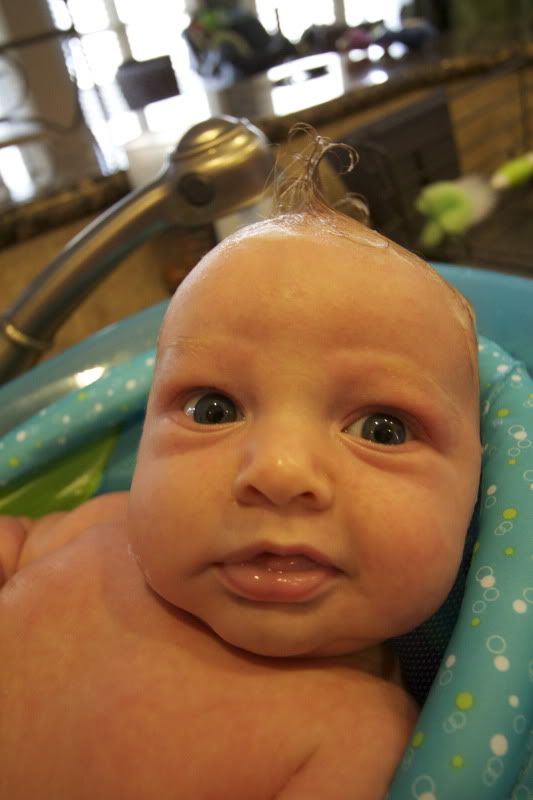 I think that's all the news for this week. Check back in soon! Here's one more shot of the most adorable baby in the universe to see you on your way. SMILE!