From the cold depths of a Tennessee winter arose two glorious days of sunshine and 60 degree temperatures! Don't think for a second that baby Henry didn't get a healthy dose of those rays! Weather like that is made for walking and that's exactly what we did. Henry did some of his traveling while snugly held close to his Mama, but he also had the opportunity to test ride his new stroller!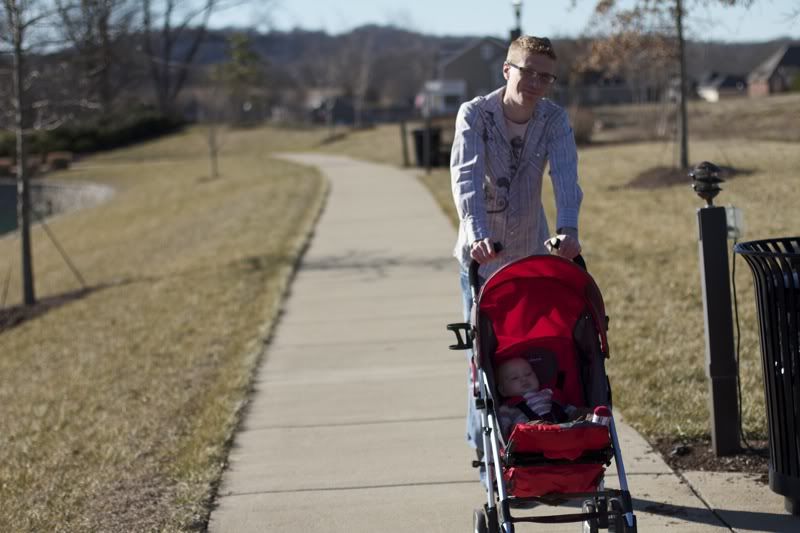 It was absolutely gorgeous outside. Days like this are such a welcome break from snow and bitter cold winds but it seems to make it that much harder when Old Man Winter rears his ugly face again.
When the weather does keep us indoors we still manage to find ways to keep ourselves entertained. Henry helps his Daddy out on conference calls.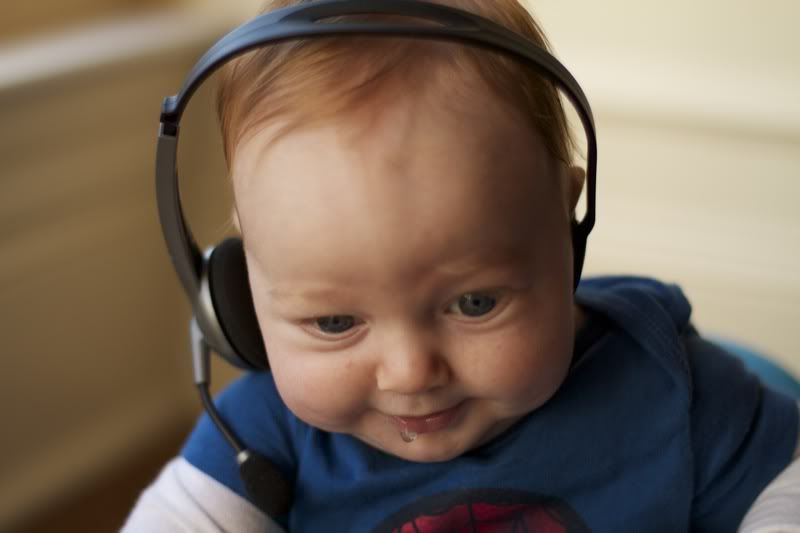 He also practices his Elvis impersonation...
And then eventually he gets annoyed by his Mama's incessant photo taking.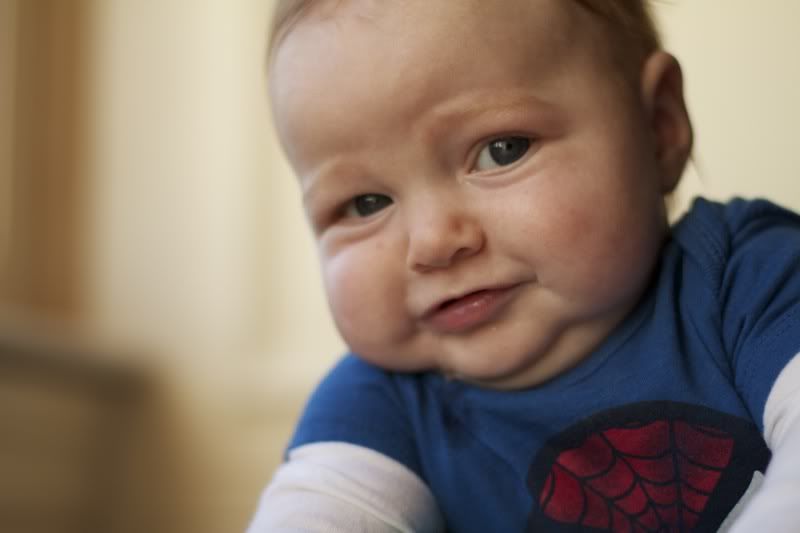 He's also had time to work up the world's most impressive case of bed head. Wow!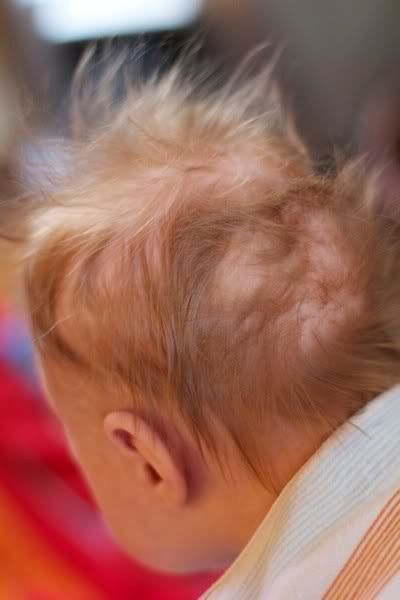 Lots of time indoors gives baby Henry time for long leisurely baths. Baths have proven to be extremely fun once Henry discovered these handy little things at the ends of his legs.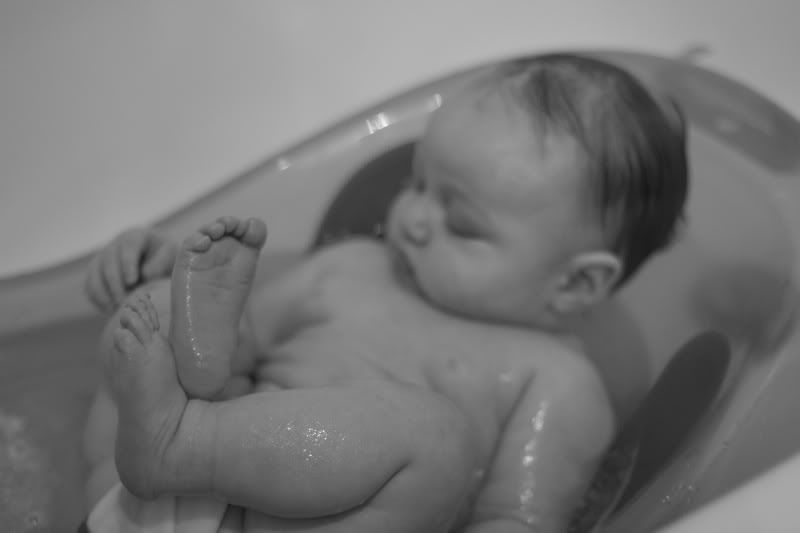 And even more fun once he discovered that those little things could make big splashes!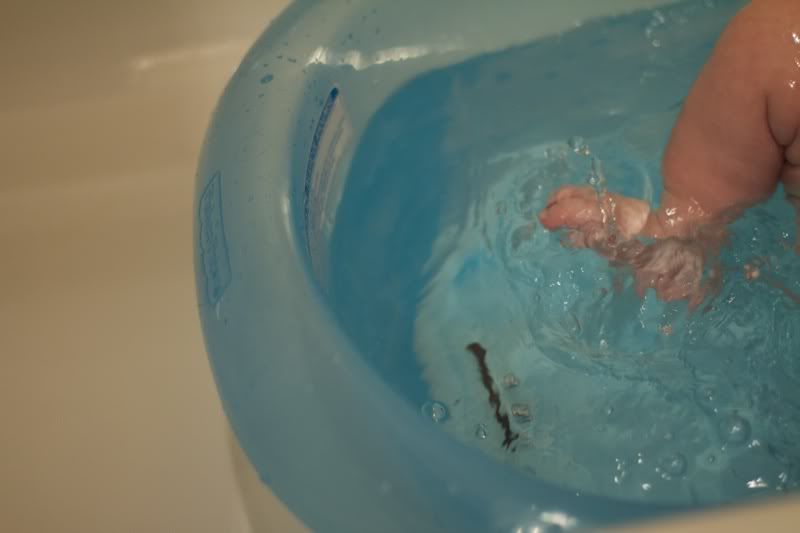 Splashing causes baby Henry to feel quite pleased with himself.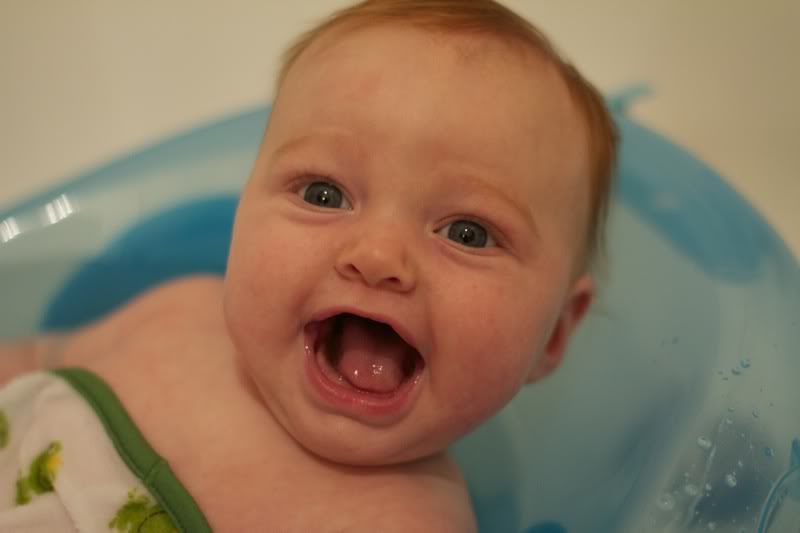 Henry will be 14 weeks old tomorrow! Over the last week or so there has been a huge difference in our schedule around here. I've been working really hard to get Henry on an "eat, play, sleep" routine, and man has it made a difference! I'm able to better predict what he needs when he gets fussy (which is usually either that he wants to eat or needs a nap), quickly tend to that need, and now we have a much happier Henry for the most part! It's great! I'm also very pleased with the fact the 90% of his naps are now taking place in his crib! The naps are still short (usually 35-45 minutes) but he's taking them every 3 hours or so. Hopefully the naps will start to lengthen out as he gets older. His nighttime stretches are also lengthening out. We frequently get the 5 hour stretch (which according to the literature is considered to be "sleeping through the night" as his age), but he hasn't yet
actually
slept through the night (by his Mama's standards). But we're getting there.
The other new development around here is that Henry's Mama has started running! My plan is to run the Mule Day 5K in April. I've downloaded the "Couch to 5K" app on my iphone and am using that as my training guide. It's a 9 week program composed of walking/running intervals, gradually adding more and more running. At the end of the 9 weeks I'm supposed to be able to run the entire 5k with no walking! The first day was kind of rough. Okay, truthfully, the next day I could barely walk- but since then things have seemed much easier and my limp has substantially decreased :) Once the weather gets consistently nicer we'll break out the jogging stroller so that baby Henry can join me on my runs.
Hope you're staying warm and thanks for checking in!