Dreary February has finally made it's way out and March has arrived. This is my favorite time of year. Bits of green growth are emerging from the mulch around the neighborhood signaling that spring is just around the corner. Buttercups are blooming and the grass is growing. But I'm sure the most astounding growth we'll see this spring will be in regards to this little guy.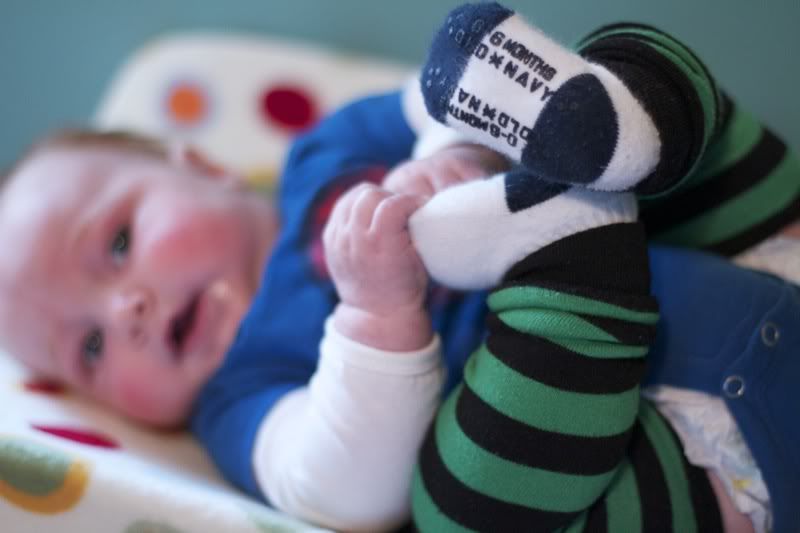 Henry and his feet. It's become quite an obsession for him lately. He grabs onto those little piggies and holds on for dear life. It can make diaper changing quite a challenge. And he doesn't just do it at home. He had his 4 month doctor's appointment yesterday, and no sooner did we lay him on the table...
Henry was weighed, measured, and inspected per protocol at Dr. MeNeely's office yesterday. Poor little fella. If we could just get him to put on some weight. Ummm...kidding! 95th percentile in length and weight again! Can you tell?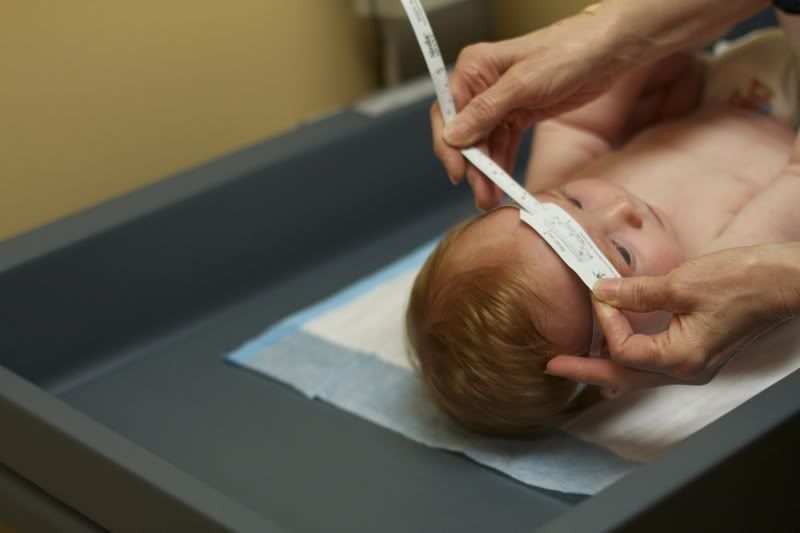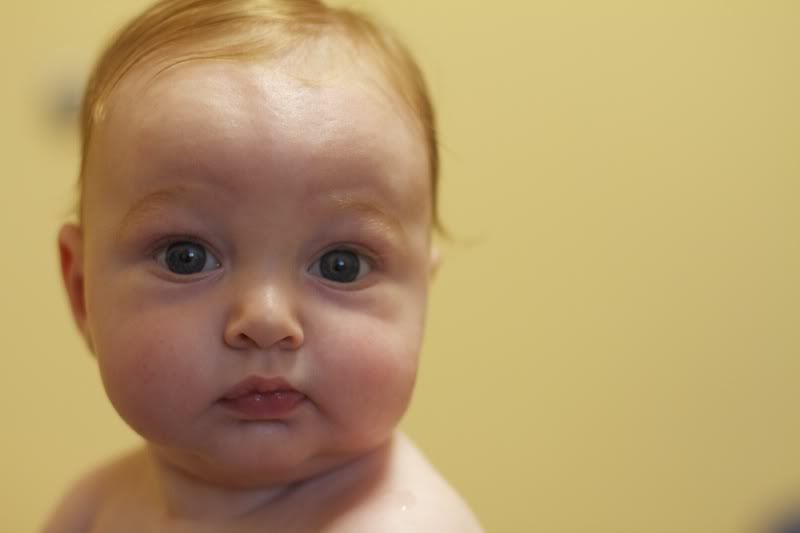 Henry also had to get 4 month shots yesterday. I cannot tell you how badly I dreaded this. Not because of the shot administration itself, but because of how miserable my poor baby was the night after his 2 month immunizations. This time he cried for a minute or two after the shots and the rest of the night was his usual drooling smiley self. BIG sigh of relief from this Mama!
Will is out of town this week for a few days- this time in Florida. And I wouldn't accuse him of rubbing it in, but he DID feel the need to share this picture of the view from his hotel room window...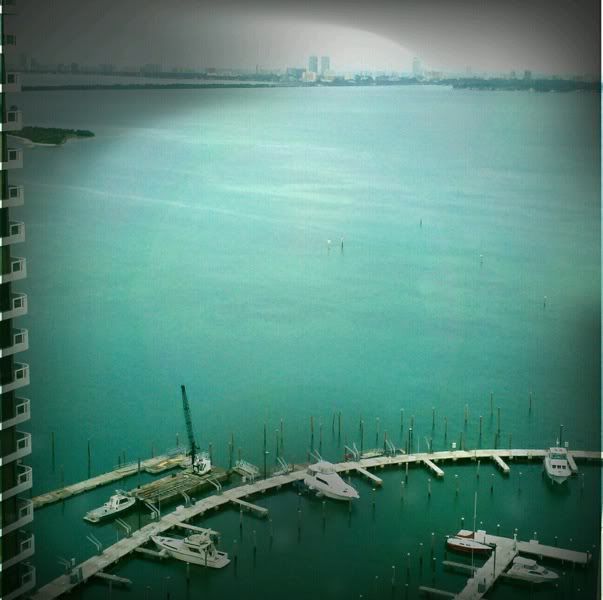 Today Henry and I went to hang out with his cousin, Cohen, for a few hours. Cohen is already such an awesome big cousin to Henry (as is his sister, Ella Grace). He loves to reinsert Henry's pacifier and does his best to keep Henry entertained. And today he said "Hold Henny"...what a cutie! Henry was much more interested in his tasty fingers than he was in looking at Mama's camera.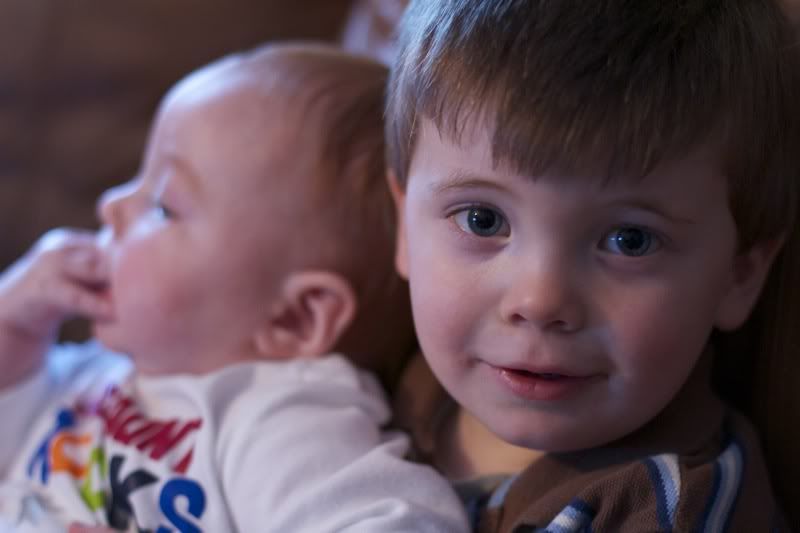 I'm not even sure how to introduce this next picture, except to say that it was too ridiculous not to share. Poor Layla. Went to the groomer's all stinky and scruffy, and came home with puffy green bows on her ears. This is her "thrilled" face.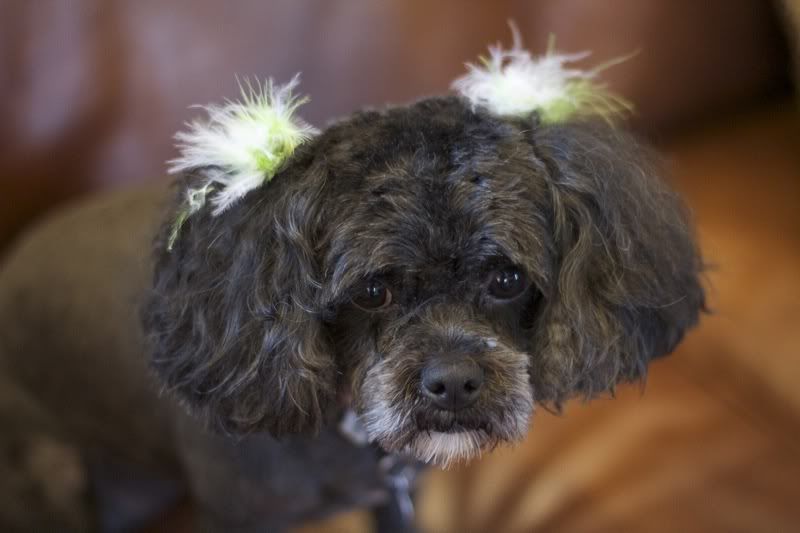 So that's all I've got for today! Hope you're enjoying this first day of March!