What a week, what a week.
It all started off pretty normally. Last Saturday night Will, Henry, my Mom & Dad, and I all headed up to PF Chang's to join other family members for a surprise birthday dinner for my sister-in-law Robyn (who turned the big 3-0 this year but doesn't look a day over 20). Considering the fact that there were 7 kids there it was remarkably non-chaotic meal. The kids kept all the adults entertained for sure, especially the one sitting right across from me. He had some pretty impressive chopstick skills.
The little boys behaved like big boys, and the big boys...well, the big boys got TINY desserts.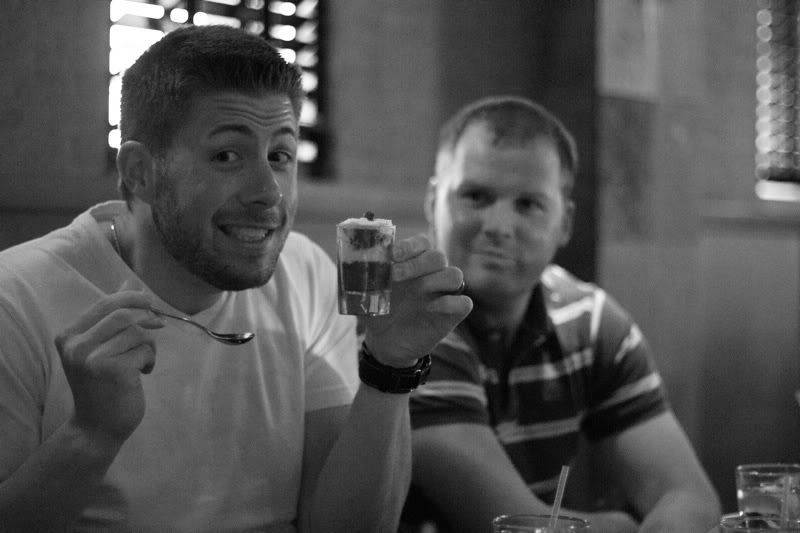 And as usual, Henry got lots of attention from my mom.
The rest of our week was pretty routine. Henry and I were very glad that Will didn't have to go out of town this week. We love it when he's at home with us. He is such a great Daddy and it's obvious how much Henry adores him. I went out for a run one day and when I got home Will had dressed Henry up in baby geek attire. The apple doesn't fall far from the tree and what a good thing in this case!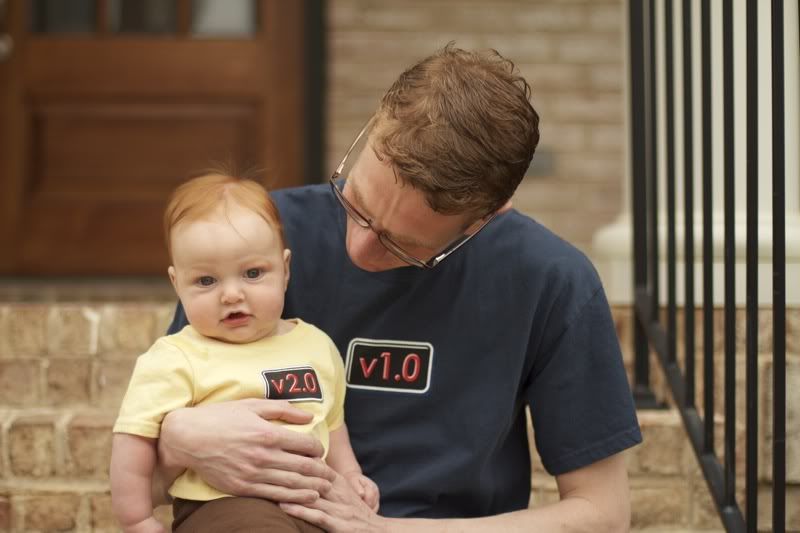 Henry has gotten more and more independent with his play time. He'll play for at least 30 minutes at a time on his playmat, in his bouncer, or in his exersaucer. It's good for him, and it's a nice break for Mama.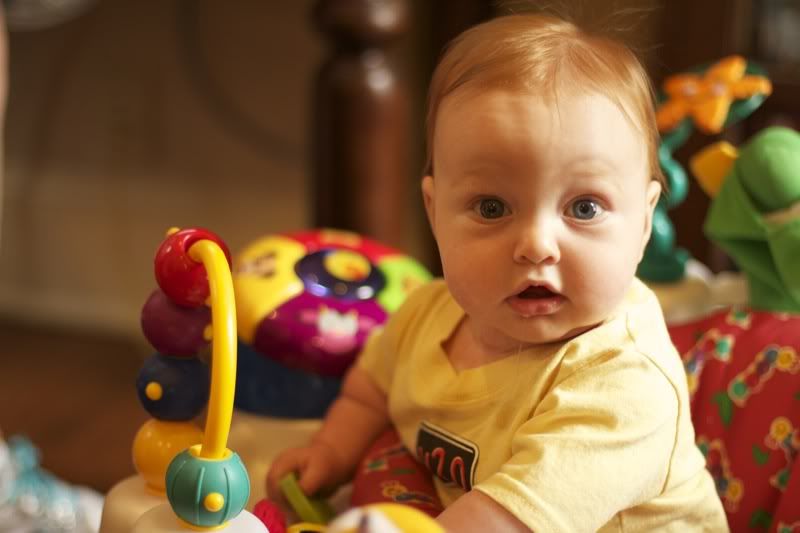 So that pretty much sums up the non-traumatic parts of our week. The real drama started on Saturday. On Saturday I worked my first shift since Henry's birth. Ten hours away from my baby. I knew it would be bad- probably worse on me than anyone else. I did okay for the first half of the day, but the closer it got to time to go home, the more anxious I got to leave. Then I got the phone call from Will. Henry (who is under high suspicion for teething) had been crying for around 2 hours and Will (who was very under the weather himself) could not get him calmed down. I could hear Henry crying in the background- and there was not a THING I could do other than offer suggestions on the phone. You better believe that when my shift ended I grabbed my belongings and hit the door running. My speedy departure didn't end once I left the clinic either- as pointed out by the police officer who pulled me over for speeding on the way home. Seriously. I joked about it before I left work, and then it actually happened!
The officer must have sensed what a mess I was. Empty carseat in the back, breast pump parts sticking out a bag on the seat beside me, and a hormonal teary woman behind the wheel. I guess sympathy overtook him because he let me off with a warning. I think he could see the new mother "fight or flight" response in my eyes and that I was nearing a serious breakdown. Bless him.
So finally, finally, I made it home. When I arrived I raced upstairs to find Will & Henry sitting on the couch. Henry wasn't doing any crying, but there might have been just a couple of tears from his Mama who was SO glad to see him. I don't think I put him down for the next 3 hours.
What a day. But we survived and I'm sure we'll survive the next one too- I just hope it doesn't roll around too soon!
So only 6 more days until my first 5k- and (more importantly to my Brit) only 6 more days until Mule Day! Henry's first Mule Day! What an event. Hopefully the weather will perk up a bit by next weekend and we'll have lot of pictures to share with you!!
**Thanks to my sweet Brit for all the photos in this blog post**