I can't believe my big boy is about to be 5 months old! He's so much more of a "little person" these days. He has the cutest little grunt when he is displeased. He laughs all the time, especially when he catches a glimpse of one of the dogs. Apparently they're hilarious. He's so close to sitting on his own. He's perfected a rather unconvincing fake cough. And he LOVES jumping in the jumparoo he's got on loan from his cousins. The boy adores jumping. So Will and I thought we would get Henry a "Johnny Jump Up". It fits on a door frame, is very portable (read- handy for entertaining baby at a friend's house), and Henry would obviously love it. Right?
Well...
After Johnny Jump up was assembled, I went to secure it on the doorframe downstairs, and ummm, oh yeah. I forgot that we have extra tall doors in our house, so even with the straps extended all the way out it wasn't long enough for Henry's feet to touch the floor, so Johnny Jump Up became more of a "Henry Hang There". He, oddly enough, still seemed to like it though. He just kind of swiveled from one direction to the other and kept an eye on all the critters.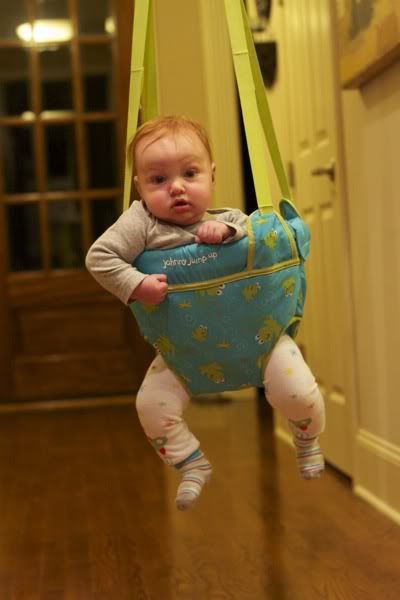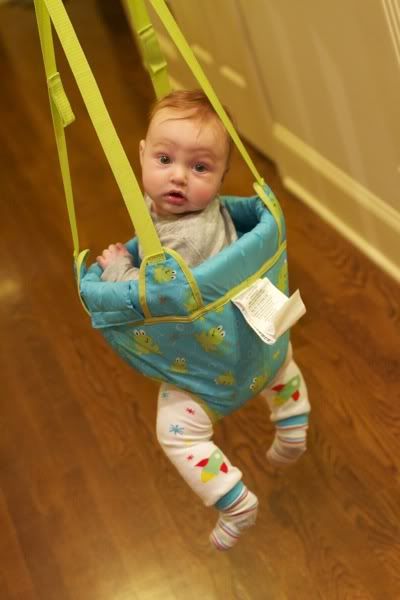 Being the kind of boy who is always in pursuit of improvement, Henry has also been working on another skill this week. I swear I handed him this empty sippy cup to play with while we were cooking dinner, and he acted like he'd had one his entire life!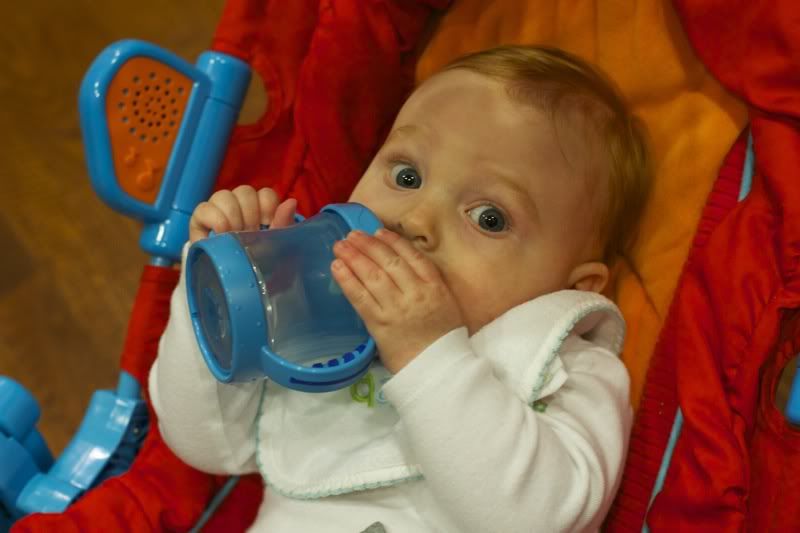 We continue to enjoy glorious spring-like weather and lots of walks (and runs for this Mama). My first 5K is in only 3 weeks! Eek! I think I'm going to be ready though, and might even make it in my goal time of 35 minutes of less. We'll see.
The beautiful weekend weather was also perfect for another event we've grown to know and love.
PHOTOfunDAY
with
Sarah B. Gilliam
. We took a little drive down to Columbia for some family photos. Nick, Robyn, Ella Grace & Cohen (who adorably refers to himself as "Coman") had a session as well. The kids had a great time playing- especially on the spinning orange chair- and we can't wait to see the results!