It's amazing what Henry and I can get into while Will is gone on a five day long business trip. Not only did we get some great photos of Henry in the washpan during the beginning of the week, but we also managed to do this: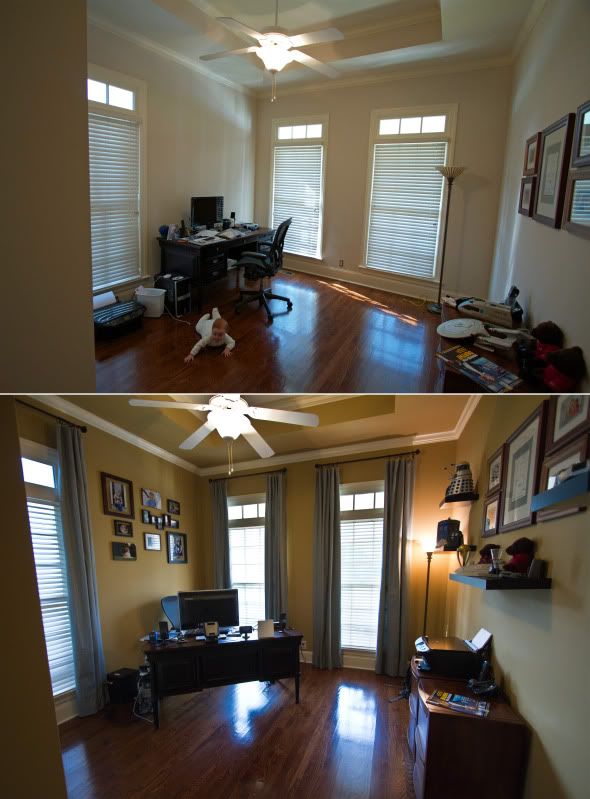 Will's office was in desperate need of a makeover. It was the only room in the house we hadn't done anything to decorate. Since Will mostly works from home, what better surprise for Father's Day than to create him a warm and relaxing environment to look at while he's on conference calls and sending emails?
I've definitely done my share of painting/redecorating rooms in my life, but let me tell you- doing it with a 7 month old baby in tow adds a whole new dimension to the challenge. I got started on Wednesday night, giving me 48 hours to get everything done before Will got home from Las Vegas- painting, drape hanging, shelf installation, furniture arrangement and cleanup. What was I thinking, you may ask? Yep, I asked myself that same question about 36 hours in. Thankfully, Henry seemed to sense that we were running on a tight schedule and was very cooperative with his Mama. He took long naps, went to bed shortly after 7pm both nights of the project, and when he was awake he was semi-contented to supervise me from his jumparoo.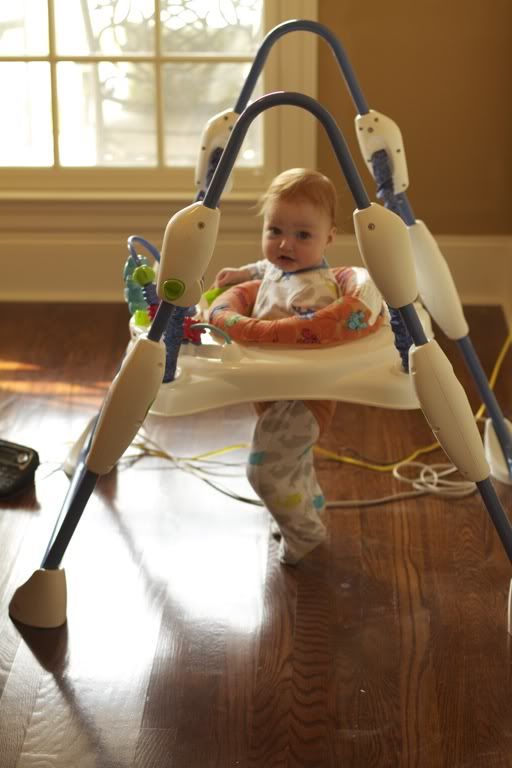 I also graciously accepted some help from two of my wonderful neighbors (Daphne & Rich) and they did an amazing job hanging the curtain rods and pressing and hanging the gorgeous drapes. I think one of the best parts of the room is the wall decor. On the wall above Will's desk I hung some of his favorite photos. On the wall across the room from his desk we have the carefully planned "Wall of Geekiness" that would make any Star Trek or Doctor Who fan quiver with delight.
I was pretty proud of myself for installing not one, but FIVE shelves without making any unnecessary holes in the walls. And they were level. And at this very moment not one of them has fallen onto the floor! However, I have to say that the instructions that came with the Ikea shelving was a hybrid between very unhelpful and hilarious. I mean, really-
Will was scheduled to arrive home from Las Vegas at around 7pm on Friday night. The room was completed at 6:40pm. Talk about down to the wire. I felt like I was smack in the middle of an episode of the old TLC show "Trading Spaces"- where they run around like rats on crack for the last few minutes before the homeowners arrive. I finished sweeping and mopping and put the last touch on the shelves and on the door going into Will's office.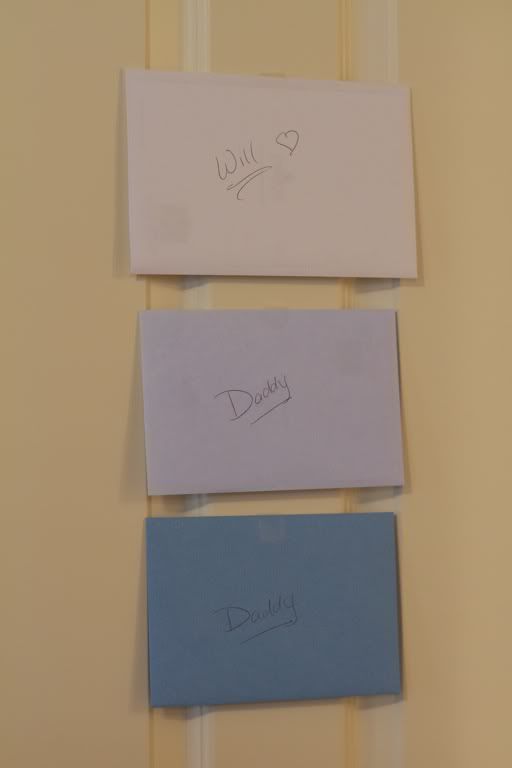 Will's face when he walked into his office was priceless! He was totally surprised and loves his office. There was just ONE small addition he had to make to the shelving- his token purchase from our recent trip to England. Because no office could be complete without all the Doctors, could it?
The last time Will had a lengthy business trip, Henry decided to learn to roll over on the day he was scheduled to come home. Surely he wouldn't pull a stunt like that again, right? Well, this is Henry we're talking about. On Friday morning we were upstairs in the bonus room. I was framing photos for the office and Henry was several feet away on his alphabet rug playing with his toys. Then he was a couple of feet away. Then he was right beside me. What? Little crawler! He started out slow but over the last two days he has steadily been picking up speed- especially if you coax him along with a set of car keys or a remote control. He got so fast yesterday we got a little image blur!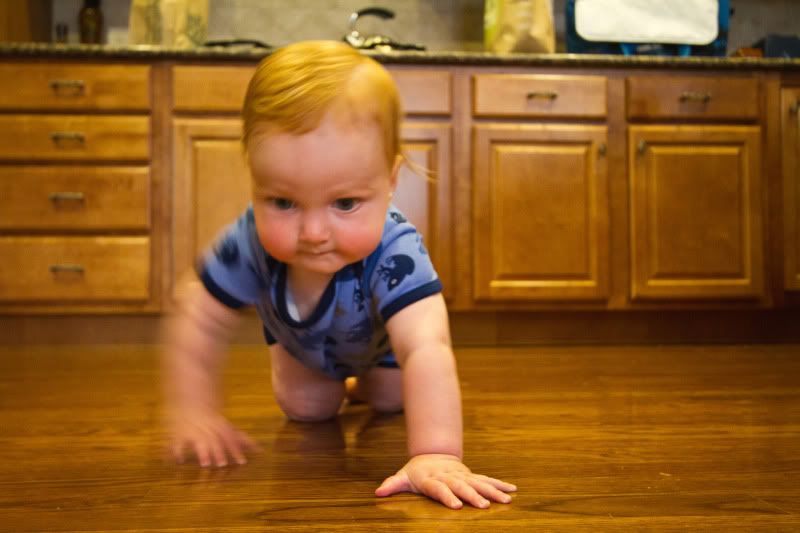 Poor Preston. The look on his face just screams "Oh hell, we're in for it now". And he's probably right. The race is on!