Henry Zuill is man on the go. With the arrival of his newly discovered mobility, the 4-legged creatures around here have most likely reached a unanimous verdict that they may have very well woken up in some sort of nightmare. Well, it's not really that bad- but rare is the sight of a cat at ground level anymore and Preston can, more often than not, be found hanging out under Will's desk trying to avert a chance meeting with Hank the Tank.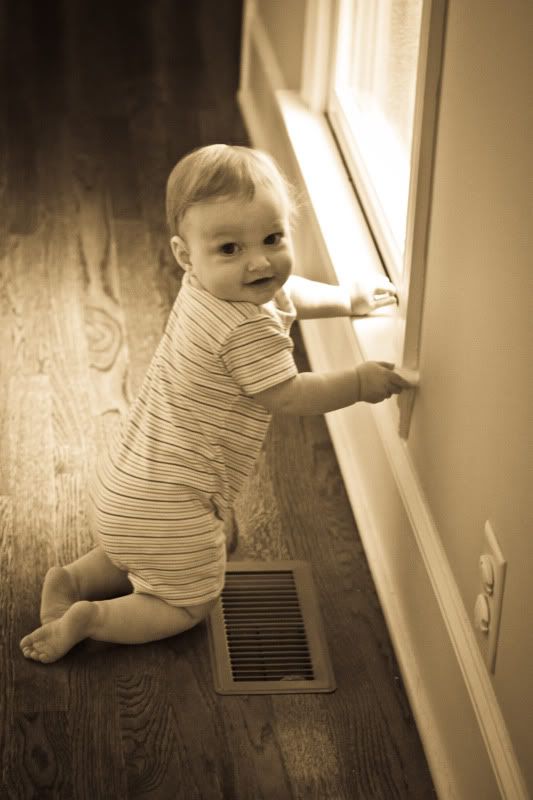 In order to be able to get anything done in the kitchen we've discovered several things that will distract Henry from hot animal pursuit and dog food- at least for 30 seconds at a time.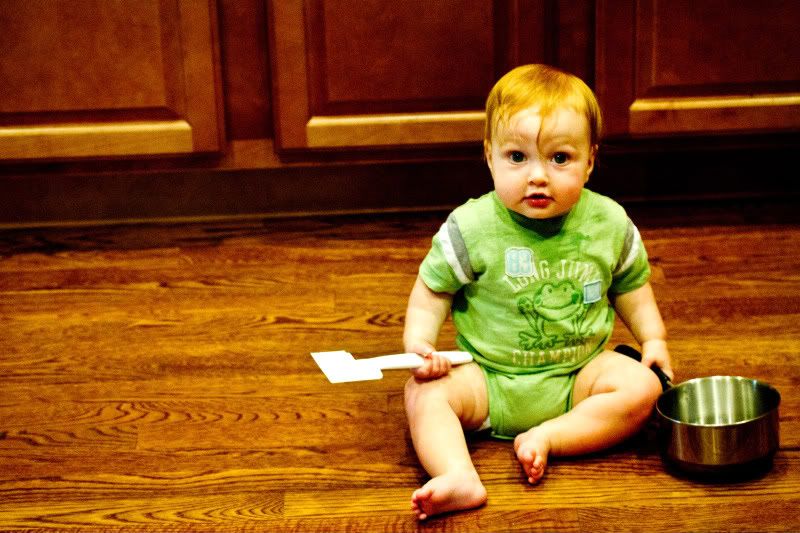 His Daddy is quite proud that this has become one of Henry's favorite toys. It couldn't be any other way, could it?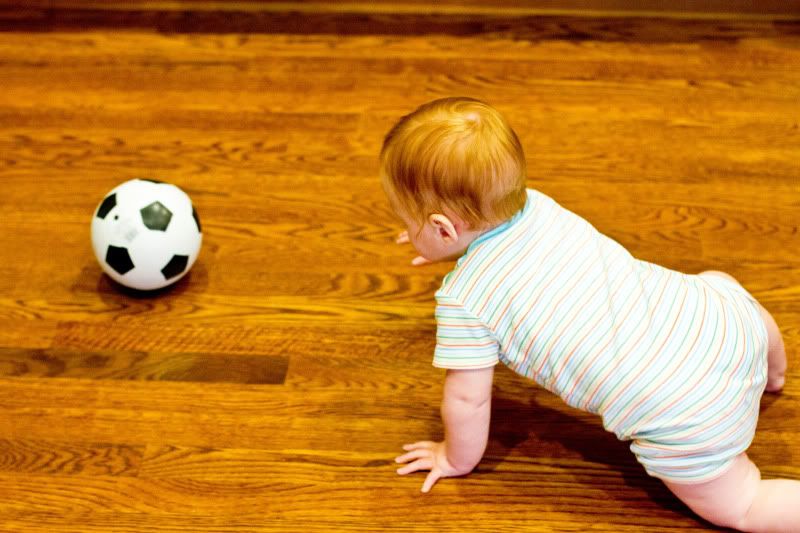 He is still pulling up on anything he can get his hands on. One of his latest anti-sleep tactics is to pull up on the side of his crib in some sort of naptime protest. The problem is that although he's a master at standing up in the crib, the art of sitting back down still remains a mystery to him. So what you end up with is a tired baby, overdue for his nap, standing up and crying in his crib. I go back in and lay him down, say "night night" and leave the room. He stands up again. Sigh. So on Monday I decided (after going in and laying him down twice) that I would try to let him work it out on his own. After he protested for about 15 minutes I relented and went in with plans to lay him back down
again
. I walked in to find my sweet baby's face covered with what looked like Oreo crumbs. He has a black crib. The baby woodchuck has entered the building. While I'm not all that concerned about the crib (because I avoided purchasing a really expensive one just for this reason) crib eating can't be healthy, right? So I ordered some crib rail wraps, but in the meantime wisely utilized a beach towel and some duct tape. As my brother said, "You can take the girl out of the country...." Hey, if it works, it works (at least until Henry figures out that the other 3 rails are still temporarily available for gnawing).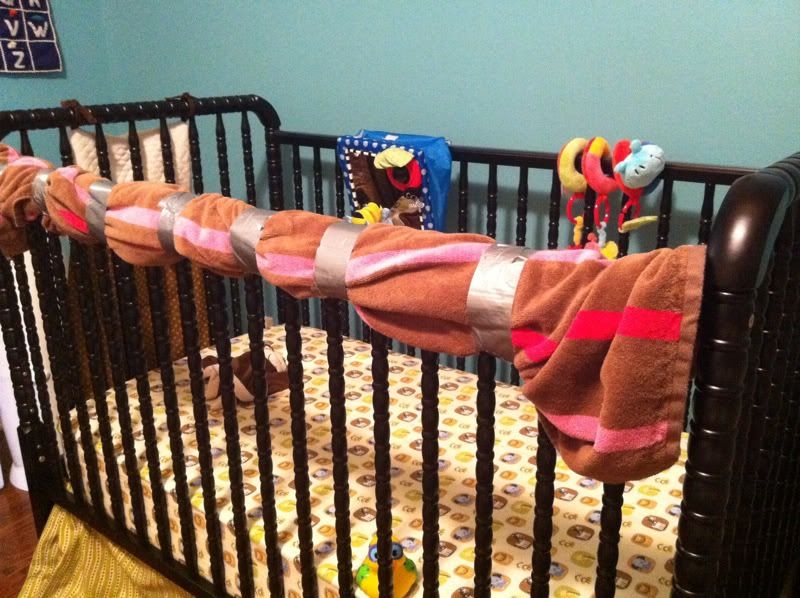 Remember last week I mentioned Henry's baby Alcatraz prisoner impression? Finally caught a picture of it. It's especially convincing when he's wearing a striped romper. He's also made good use of the activity/music table passed down from his sweet cousins (who, as seen below, make entertaining Henry a breeze).

Henry's bathtime is still one of my favorite times of the day. Towards the end of the day "Cranky Hank" will occasionally rear his ugly head. Nothing remedies that like giving the boy some playtime in the tub. He loves it. Plop him in there with his ducks, his book, and his cups and he's a happy camper. This week Henry wasn't the only one who needed to be dried off after having his bath. He has learned how to make the BIG splashes and if you get caught in the path of the tidal wave, prepare to be soaked.
We added another activity to our regular bedtime routine. Henry likes it. Of course he does. He likes anything you stick into his mouth that he can chew on, including his new toothbrush!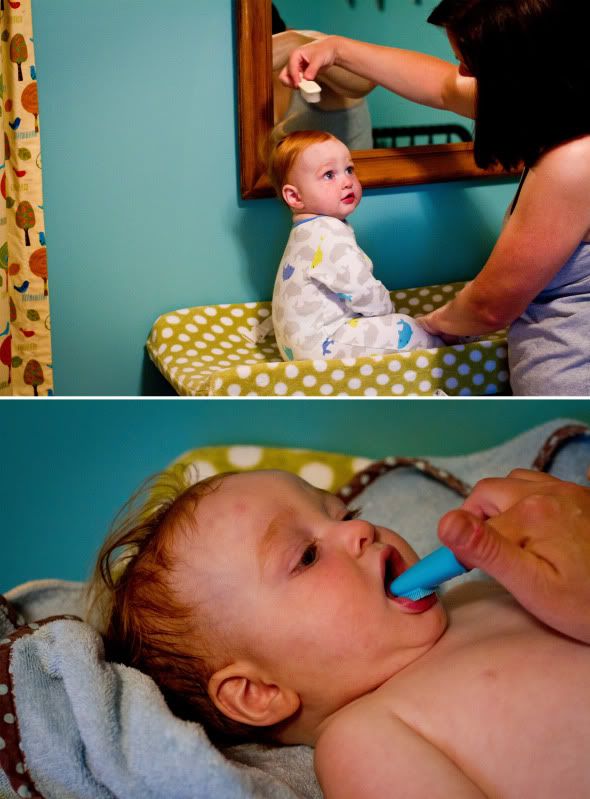 My very young and vibrant Brit celebrated his 38th birthday this week (although he tried his best to convince everybody it was his 28th)! I keep reminding Will that if you round his age up, he's pretty much 40 already. He in turn reminds me that if I decide to do something tacky for his 40th birthday, that he has 4 years to plan his retaliation. So, at least for now, I'm playing nice. We went to see the new X-Men movie and had a wonderful dinner at Stoney River with Henry and my parents (who are about to celebrate their 40th wedding anniversary). And of course, what is a birthday without cake? As you can see from the writing on the cake, sometimes I like to cater to my Brit's delusions.
Henry and our sweet neighbor down the street, Harper, have really taken up with each other. She is 14 months older than Henry, so every time I'm around her it's almost like getting a preview of things we have to come- and although I soak up every minute with Henry right now, she really makes me look forward to next year. I can never wait to hear what's going to come out of Harper's mouth. She is hilarious- not to mention stinking adorable! Her mom (my good friend Jess) entered Harper into the toddler category of the current "2011 Gerber Generation Photo Search" contest. I think she's a shoe-in.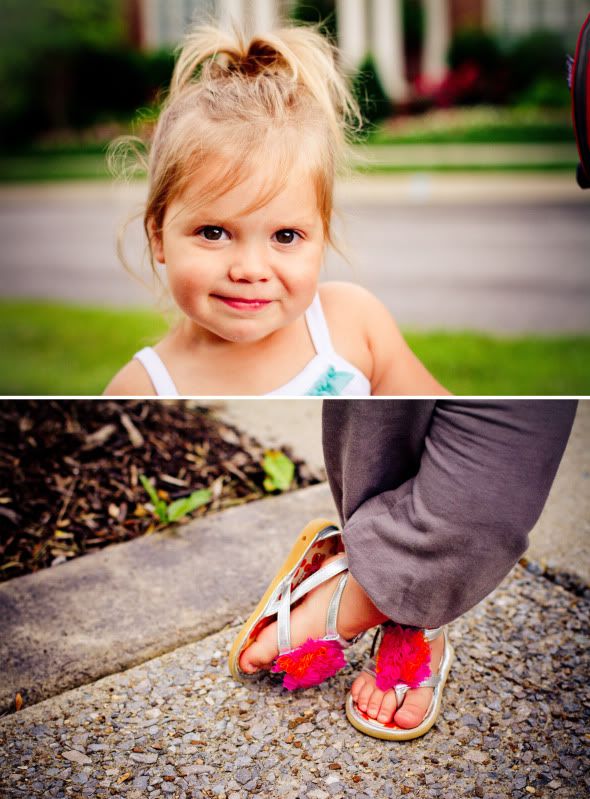 A couple of my friends had already been urging me to enter Henry into the photo search. Since it would be cool to have TWO Gerber babies on the same street, why not? The $50,000 college scholarship for Henry wouldn't hurt my feelings either. Voting starts on July 5th, so feel free to cast your vote for our boy
HERE
. I have to say, I think he fits the bill pretty well.