Last week I must have thought to myself "Well, finally got the hang of one baby, let's throw another kid in the mix!".
So on Friday night Henry had his first sleep-over. My niece, Ella Grace, came to spend all day Friday and Friday night with us. It was just last week (or so it seems) that my brother was giving me a 4am phone call from the hospital to tell me she had made her arrival- yet somehow she will be turning 5 years old next month. Unbelievable. She has grown into such a polite, loving and hilarious girl!! Not only did she help with baby Henry, but she kept us entertained the never-ending dialogue of a (nearly) 5 year old. I'm so proud of this girl.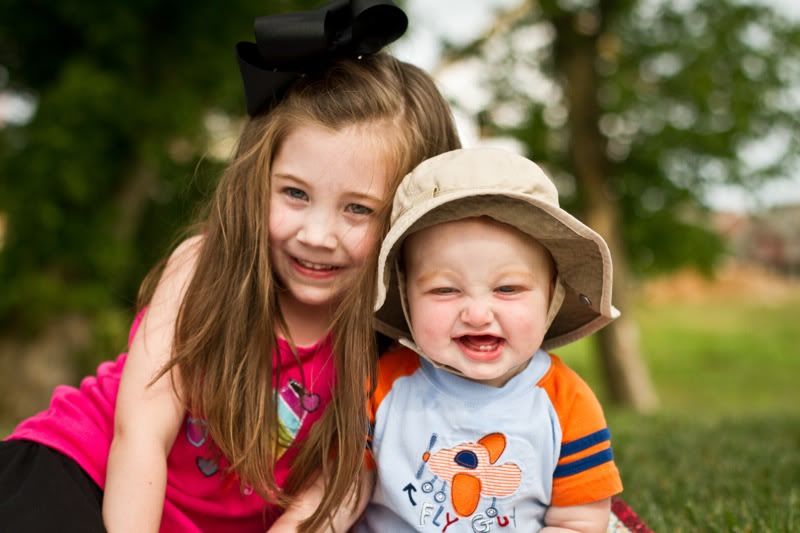 We stayed pretty darn busy the entire time she was here. We played a little hopscotch.
We strolled our babies around the neighborhood. Her baby was a bit quieter than mine.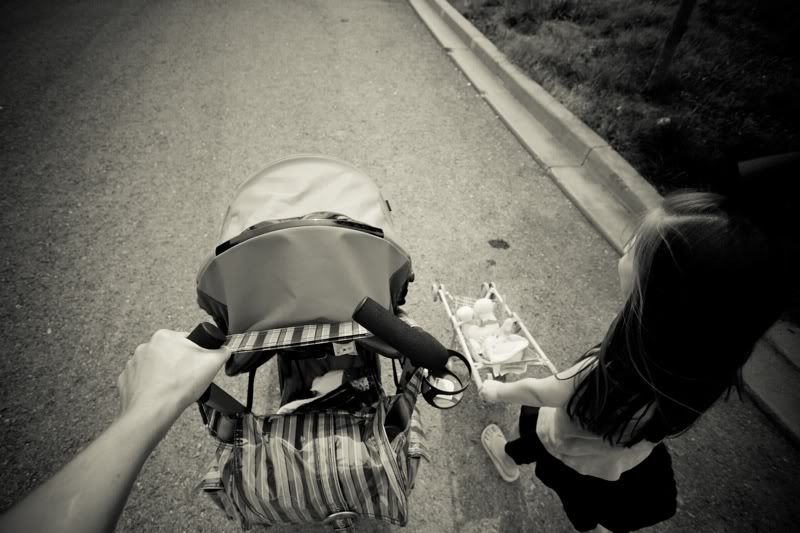 We made a little trip down to the park where I pushed her in the swings and in turn she pushed baby Henry in the swings. There was another "big kid" who got in a little swinging time as well.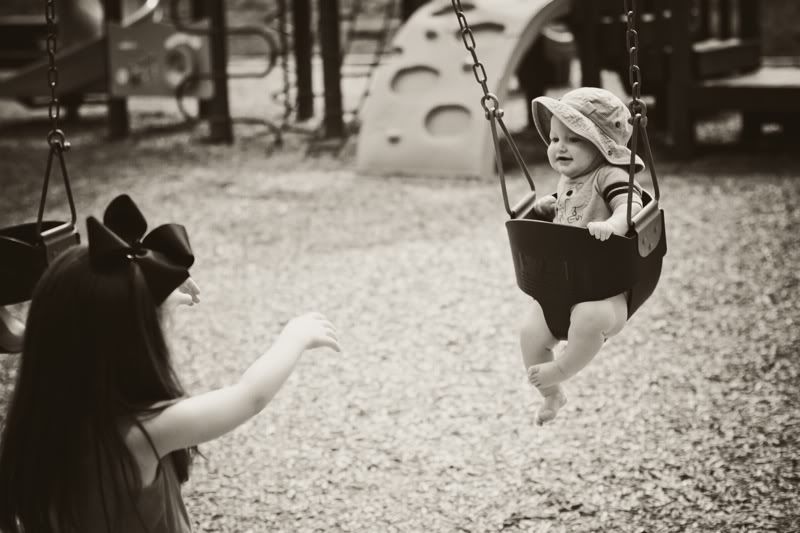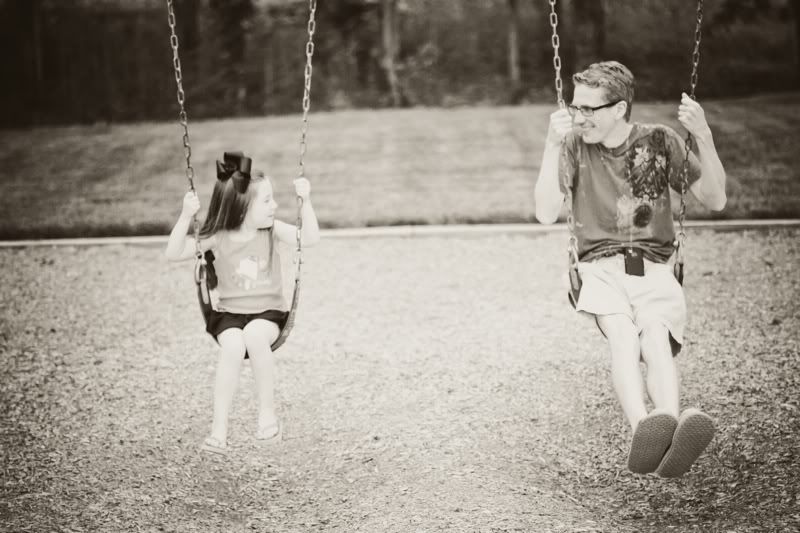 That same "big kid" chased her around the playground until she was barely able to breathe because she was laughing so hard.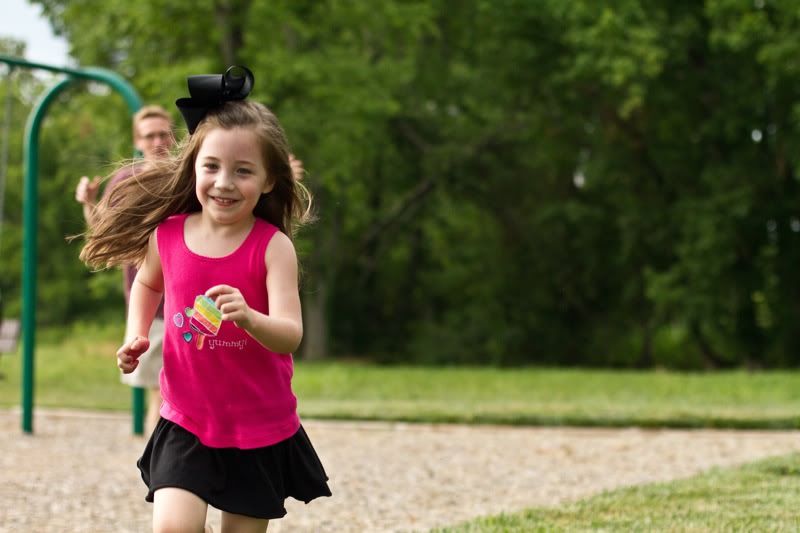 Baby Henry was very glad to have her here to spend the night with us- although you wouldn't be convinced by the look on his face, right?
The next morning I woke to a sweet little voice saying "A, is it time to get up yet?". And yes, it was time to get up, because we had to get ready for breakfast with the entire family at The Loveless Cafe. A little rocking (while inhaling the aroma of pork on the BBQ from three feet away) will help pass the time while you're waiting for a table.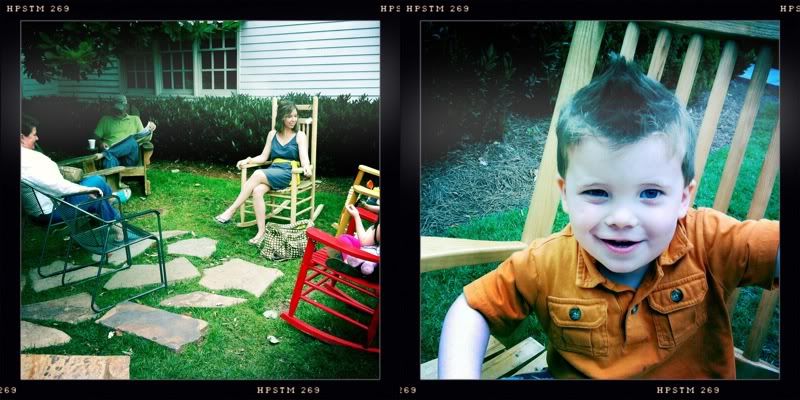 Just for the record (much to my Brit's dismay, who descibes them as looking like 'catsick' ) Henry loves grits.
So, speaking of baby Henry (which we normally do, right?)...
Will and I often rush to be the first one to go in and get Henry out of his crib first thing in the morning or after a nap. There's nothing quite like the look you get from a baby when he wants out of his crib and you're the one who comes to rescue him. This week however, we've gone from seeing
this
upon entering the room...
to seeing
this
...
Since the above photo, Henry has been caught pulling up on a chair, a bookshelf, the tub, and his baby gates (which just happen to have metal bars, making him look like a miniature Alcatraz prisoner when he's shaking the life out of them). When he's not busy pulling up on anything that doesn't run from him, he has managed to get into all kinds of things utilizing his new crawling skills.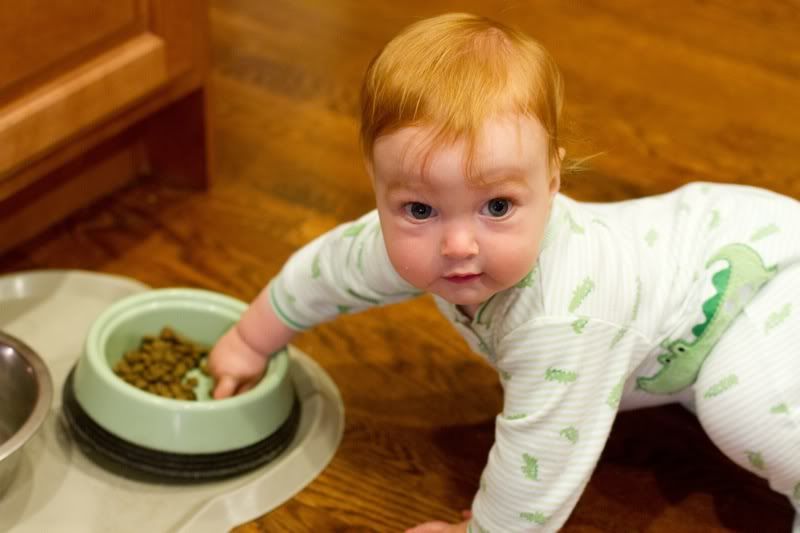 He's been a trooper in regards to his exploration of the culinary world. He's added several foods to his "likes" list, including cheese, dill pickles, sweet potatoes, pears, apples, and mashed potatoes. It won't be long before his Mama gives him a taste of one of these.
Yep- first 2011 tomato from my tomato garden. Summer has officially arrived.