I know I have blogged about the intensity of Tennessee summers before. You've heard it. You know how hot it can be. You know that I could rationally go outside and test the "frying an egg on the sidewalk" theory. So there's really no point in saying it again-
But man is it hot! So hot that the occasional breezes feel like they are coming right from the depths of an industrial strength hairdryer.
And although I truly did savor pregnancy, I am, however, thankful that during this blazing Tennessee summer I am not largely pregnant with my adorable little ginger like I was this time last year. This summer brings a completely new experience- carrying aforementioned nearly 22 pound ginger on my sweaty hip! And again, this is most sensible place we can figure to hang out. Henry has grown to be quite a fan.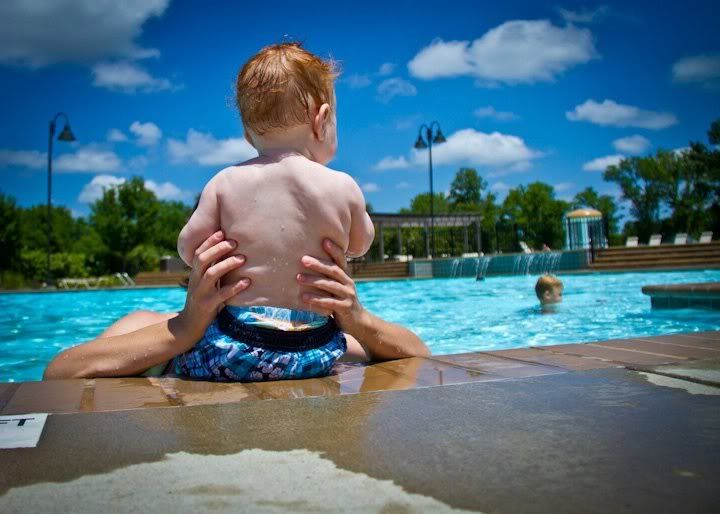 He's also a fan of his pseudo-sister (aka the daughter of one of my best friends), Stratton, coming over for a swim. We love this girl.
Other than our four-times-a-day dog walks, the only time Henry and I have ventured outside for an extended period of time this week was when we had a little picnic excursion with Robyn, Ella Grace and Cohen. Since it had been raining we ended up having our picnic under the covered patio at our neighborhood clubhouse, but still, it's eating food outside, right? That counts as a picnic.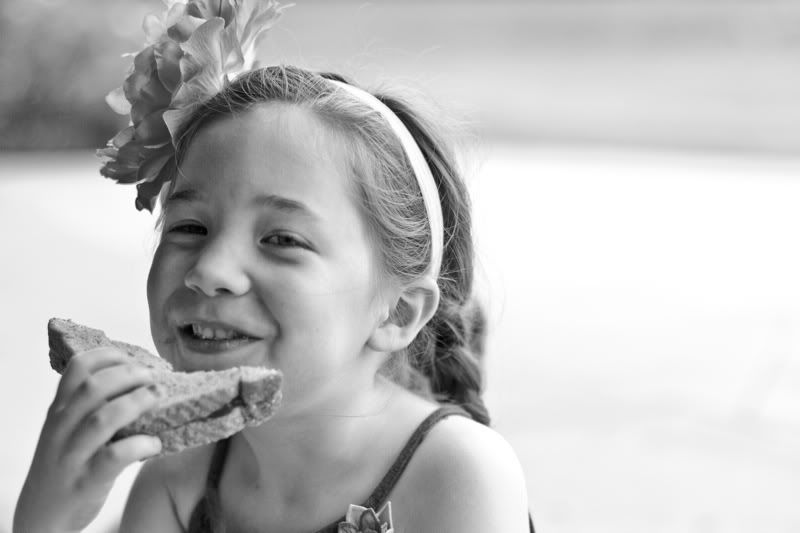 Henry always loves spending time with his two cousins. Always. They love him and he loves them right back. He fixates on them and I can't blame him. They are amazingly entertaining. We were at their house this week and the oldest two were watching an episode of He-Man (don't ask). Henry was not satisfied unless he was lingering at the edge of Cohen's chair. Eventually he gave in (as you can see in the last picture) and succumbed to watching a few minutes of watching Prince Adam in action.

Ella Grace (nearly 5) mothers him and always double checks to make sure that what he is playing with is safe, so that he doesn't "get choked in his throat". Even our rambunctious 2 1/2 year old, Cohen, who rarely stops to take a breath, clearly shows how much he digs this baby. Any time Henry approaches him Cohen stops whatever he is doing and looks at my boy and says "Hi Henry" (pronounced Hen-wy). Man, I love these two so much.
We had a discovery this week. Baby Henry is not afraid of large explosive displays. He demonstrated this when he elected not to cry at his first Hibachi experience (pictured with his unquestionably hip Uncle Mark).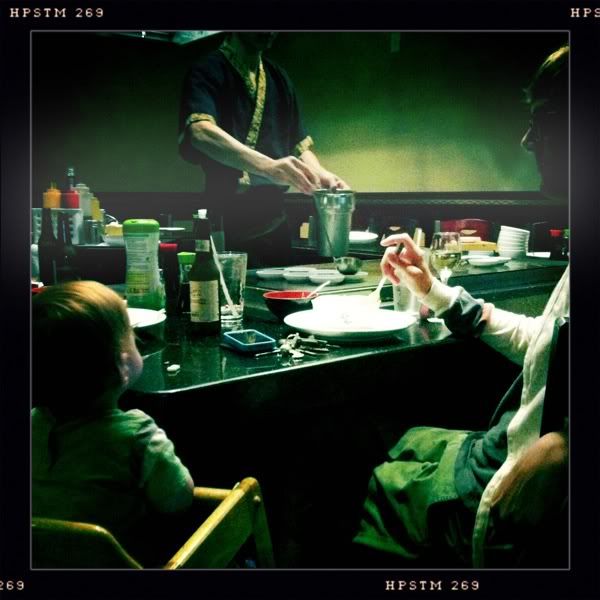 He's also proving to be very brave in other areas. A couple of weeks ago I blogged about Henry learning to pull up. At first it was just in his crib. Now, it's everywhere. There are certain things that seem to motivate him to maneuver about more than others. Typical male already.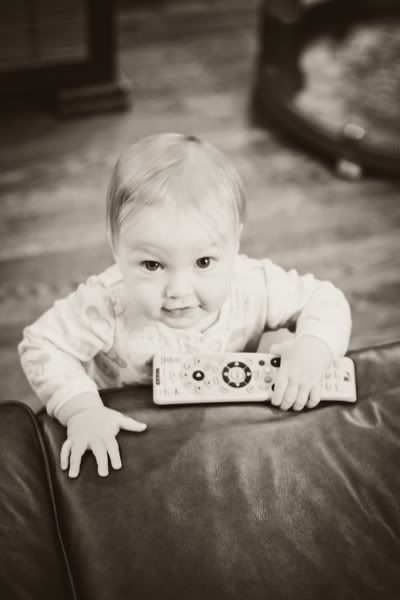 Henry is continuing to travel down the pathway of culinary expertise- at least as much as a 9 month old can. Partially because it's great to know all of the ingredients and partially because it makes me feel like a super-productive stay at home mom, I make all of Henry's babyfood at home. For the most part it is chunky pureed fruits and veggies, but I make a chicken/apple/sweet potato stew for him that he loves! I have found an amazing source of recipes on the
Wholesome Baby Foods
website. Henry seems to switch around on his favorite food of the week. This week it's pureed oven roasted apples and pears. I tasted it and I don't blame him.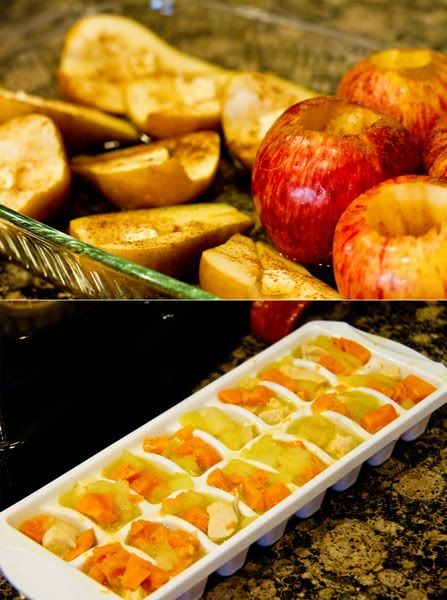 Mealtime with Henry is fun. His messy peach face is the bomb. And the latest meal time game craze is to try to see how many puffs you can stuff in your mouth at once, and let me tell you, he's pretty good.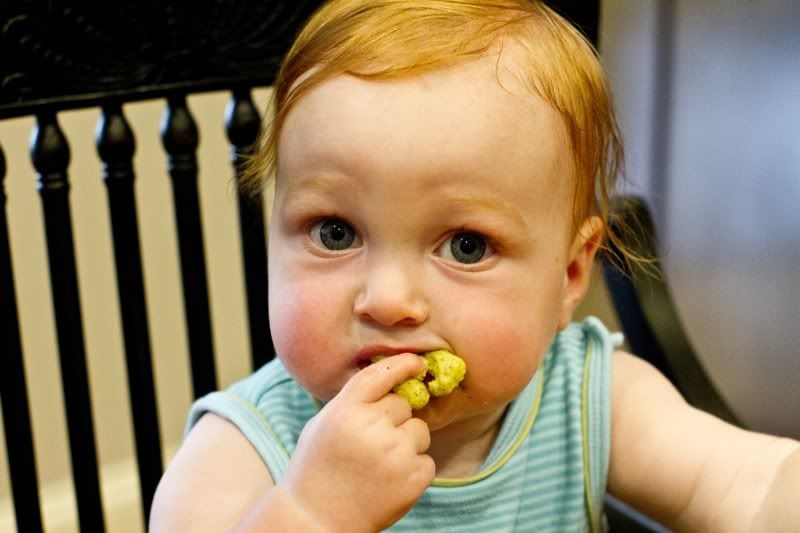 The added bonus to mealtime with Henry is that he really enjoys it- meaning that you get to experience the full spectrum of "Happy Henry Faces". His smiles make my day.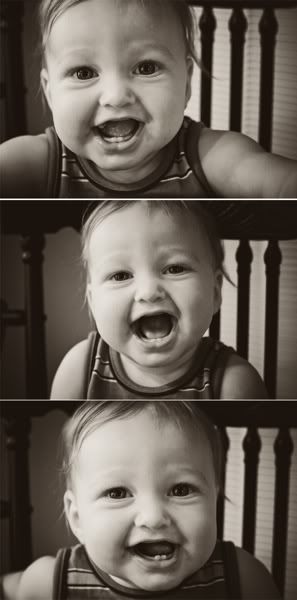 It's nearly 8 pm. I started editing photos and writing for this blog post at 9 am this morning. Eleven hours. That's a long time to compose a blog post. Here's my excuse (pictured while standing his adorable self beside my desk chair while I was at the computer).
Thanks for checking in with us!