Once you have a baby, time begins to pass at a rate that will make your head spin. That's what everybody says. That one minute you have a brand new wrinkled newborn who sleeps all day, but that before you can realize you've even blinked they are walking, talking, and asking to borrow the keys to your car because it's prom night and they promise they'll be home by 1am.
There is not one bit of doubt in my mind that I will soon be able to testify that this is the absolute truth, and I'll swear that I can barely remember the days when Henry refused to sit down in the bathtub and was trying to eat cat hair when I wasn't looking.
But for right now I'm a stay at home mom to a
very
busy 10 month old. Don't get me wrong, I bask in the fact that I've been able to stay at home with Henry. Don't think for a second I take it for granted because I know how many busy working moms would love to be in my shoes. Sometimes, though, when you are a stay at home mom (to a very busy 10 month old) you find yourself searching for ways to keep both of you busy and mentally stimulated- ways that you didn't try the day before, and the day before, and the day before...
Sometimes you take a little road trip, about 60 miles south, to visit a grandmother and a great-grandmother who couldn't hide their adoration for red-headed babies if they tried.
Sometimes you go to the park. But you have to go early, before the swings get so hot that they feel like they'll take off the first layer of skin if you sit on them. And you smile as you watch your baby get pushed higher and higher. The same swings that brought uncertainty a couple of months ago now come with a guarantee of baby laughter- especially if Daddy is the main swing operator in charge.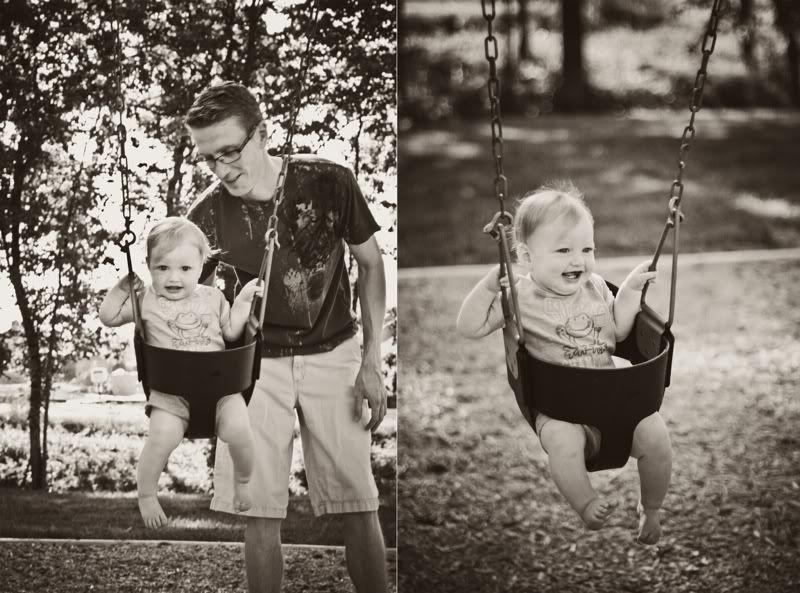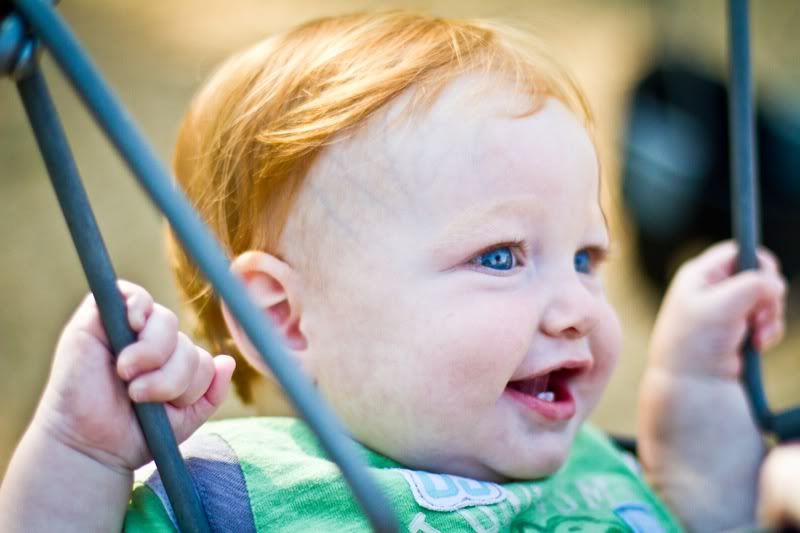 Sometimes you encourage your baby to practice his sippy cups skills. And then you don't know whether to be proud or grossed out when he utilizes them by trying to drink bath water from the hair-rinsing cup.
Sometimes you wonder how your baby can hear the sound of the dishwasher opening from 50 feet away, and then you occasionally give in and just let him do his thing and explore the world of dishwasher land. But you still wonder why his tongue has to be sticking out of his mouth while he is on the expedition.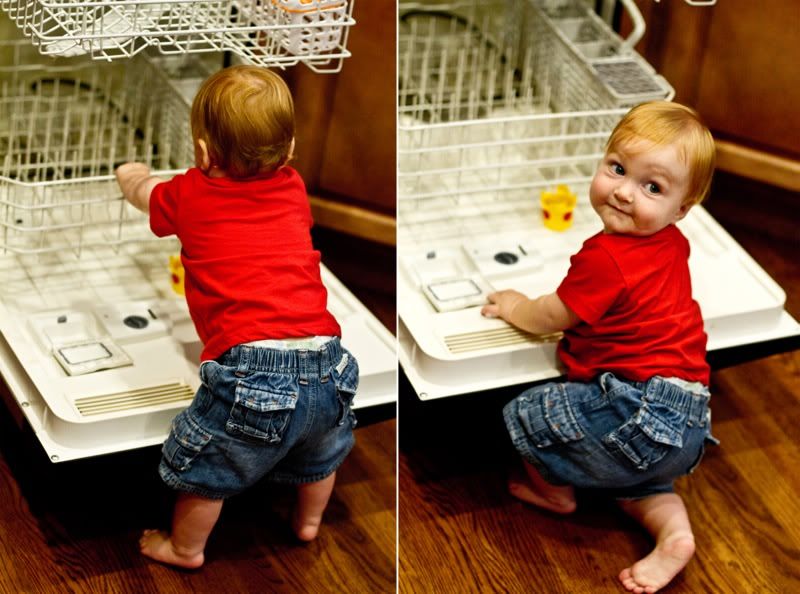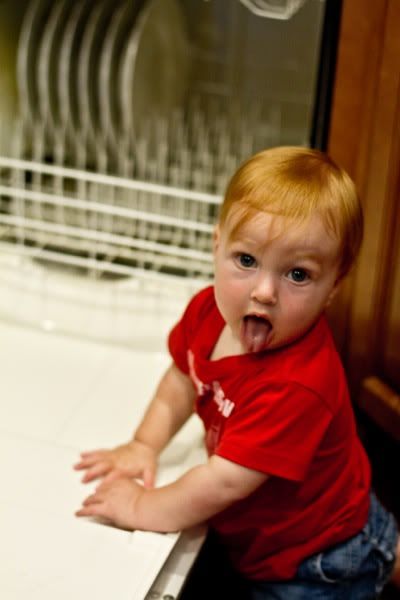 Sometimes, on the really good days, Daddy doesn't have to work, so we are all able to go the pool together. I'm really not sure which of my boys enjoys this the most.
Sometimes you just go out in the yard, in the morning, when the light is supposed to be good, and try to get a couple of those
great
pictures of your boy. But sometimes all you get are pictures of him trying to eat grass and looking purely annoyed (but still adorable).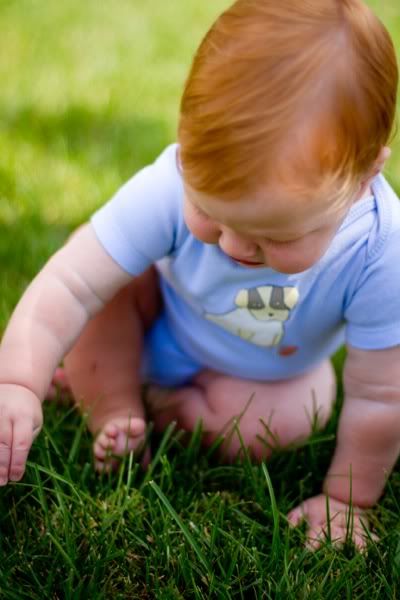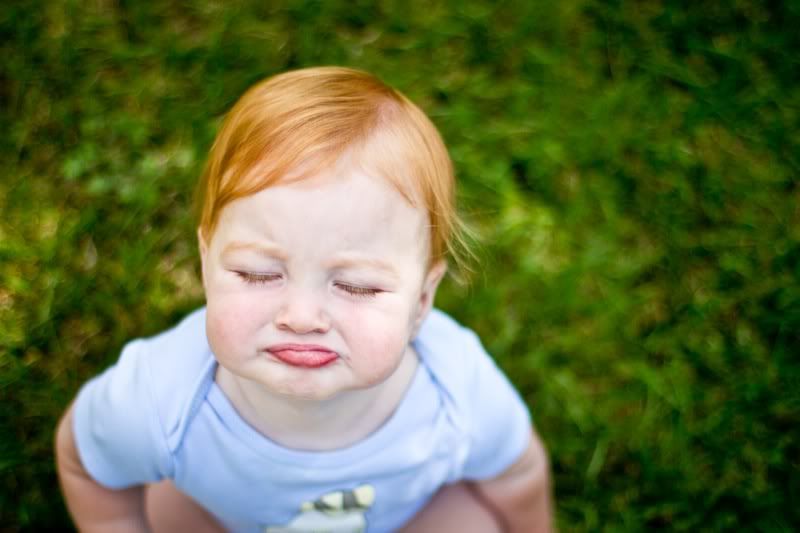 Or you can just stay inside and take photos of him crawling around stark naked with his favorite stacking cups from Ikea covering his hands like a pair of winter gloves. Clip-clop, clip-clop, clip-clop. He couldn't sneak up on Hellen Keller with those things on his hands.
These are the days that I will long for when he is older and wants to entertain himself with anything other than his Mama. So I try to etch them in my memory, to savor them like you would savor a long nap or a really good dessert. I soak them in, because these are the days.