I know Patrick Swayze declared in 1987 that nobody puts baby in the corner, but he was obviously not talking about Henry Zuill. Today Henry would have fully deserved to be put in the corner. Today he tried to break all world records and earn the title of the crankiest baby in the history of the world.
In his defense he's had a pretty trying week for a 13 month old. Eleven hour flight times and 6 hour time changes do nothing to elevate a boy's mood.
Henry added another stamp to his passport last week. He made his second trip across the big pond to his Daddy's homeland of England. One of the surly guys at the customs area of the airport asked Will "Business or pleasure?" regarding the trip we made to the UK. "Neither" was the first response that immediately entered both of our minds. We traveled to Will's home last week for the funeral of his sweet mother, Ann. So this trip, unlike our previous ones, wasn't particularly filled with road trips and sightseeing. Most of our time was focused on family- just as it should have been.
We again stayed with Will's older brother, Andy, and his wife, Cheryl. These two get braver every year. It started with letting just Will and me invade their home for a week in 2009, then again with 6 month old Henry in the spring of 2011. This time they were willing to brave the storm of a full-on toddler in their home for a week. As toddlers tend to do, Henry pretty much placed the "A Toddler Has Been Here" stamp on their house. Every breakable thing had been moved to 3+ feet off the floor within 30 minutes of our arrival and you couldn't walk through the living room without having to step over a block or a book or a sippy cup. But once Henry figured out how to chime out "Andy" in that sweet little voice of his, all was forgiven.
We did manage to fit in a couple of days worth of activities in the midst of the trip. We made a trip to the
Milestones Museum
in Basingstoke with Cheryl.
We also took a little road trip to the south coast of England to
Bournemouth
and spent part of the day with Rob, one of Will's childhood friends. Going to Bournemouth offered us the opportunity to do several things. There was a quaint little Christmas festival going on, so while we waited on Rob to arrive we sat and enjoyed a nice
mug
boot full of mulled wine. This was my first experience with mulled wine and I doubt my arm will require twisting to partake in it again. Henry didn't really seem to hold a grudge about the fact that he didn't get a boot of his own.
While we sipped from our steaming boots of wine, we were privy to witness some of the pension protestors coming through the middle of the festivities.
I also had a good view of this handsome guy.
Being in Bournemouth also presented us with the opportunity to eat at
Harry Ramsdens
.
Harry Ramsdens proclaims to have the world's most famous (and best) fish and chips. I suspect that this is most likely true since I couldn't resist diving in long enough to take a quick photo. Yes, it was really that good.
We saved the best for last. After we finished up the last morsels of our cod and chips and mushy peas we made our way down to the area just in front of the restaurant- down to this: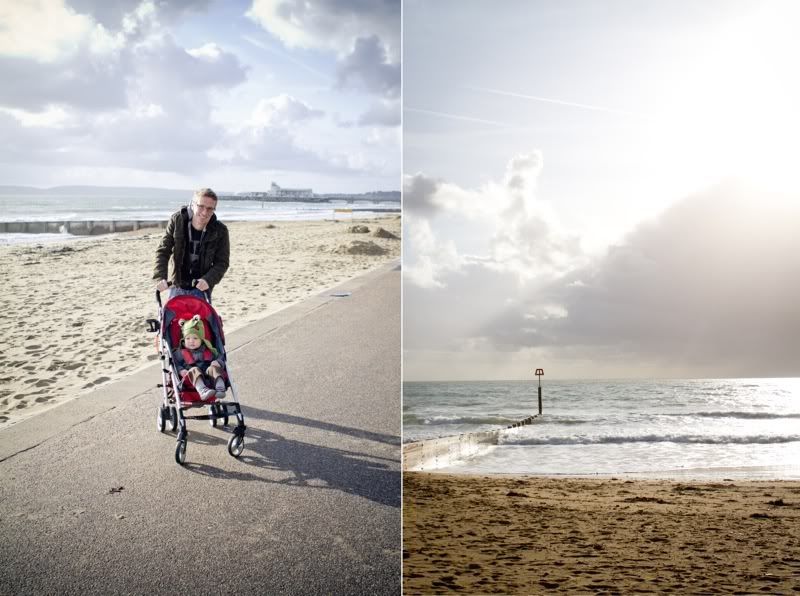 Even though he had to wear a jacket and didn't need an ounce of sunblock, Henry made his first trip to the beach. And he loved it. Laughter just rolled out of his little mouth as he ran down towards the waves and was scooped up and brought back before the water met his feet- and he just repeated the process over and over.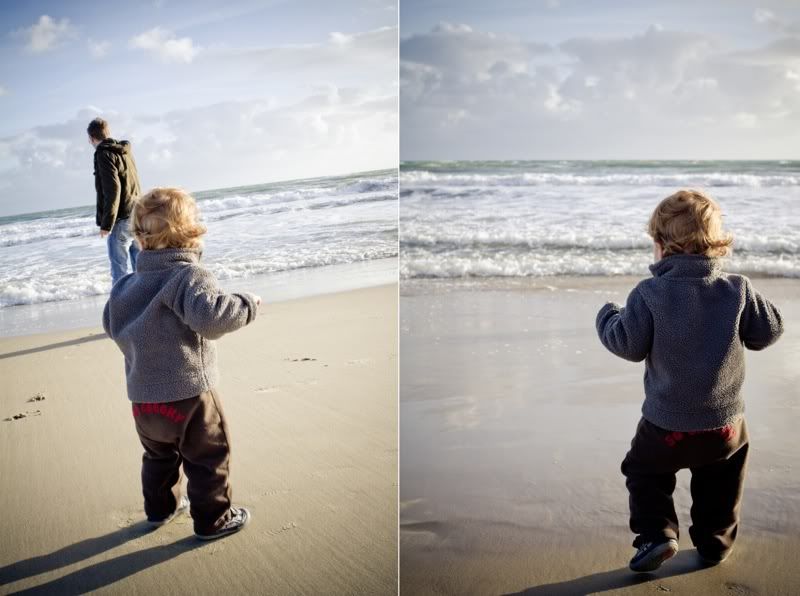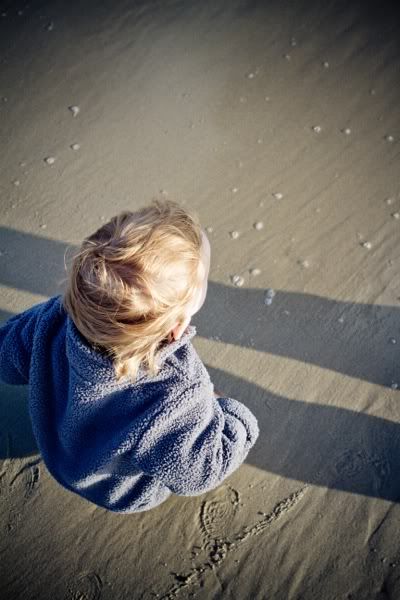 The flights over to England and back are no joke. The prolonged containment inside an airplane for that length of time is hard for the most patient adult to handle. Needless to say I was more than a little freaked out about the potential havoc Henry might wreak upon the other inhabitants of our air craft. He really did shock us all. As his Daddy put it- he was total rock star during the total of about 21 hours we were on the plane. I think we had less than 30 minutes total of whining/crying/fussing. Good job Henry. (Consequently, our apologies to Delta for the 2 or 3 ripped up "Sky Mall" magazines you might have found lying about).
Henry has really been on a verbal streak over the last week or so. Maybe there was something in the British air that made him more chatty, but he's really thrown some new words out there this week including:
Aaaaa-deee! (Andy)
Ro-Ro (in reference to his Aunt Robyn)- he says this one spot on
Ayyy-la (Layla, our dog)
Ewwa (Ella, his cousin)
and my favorite:
Oh Whoa! (Oh no!)
A few iPhone photos from the last couple of weeks to end this entry.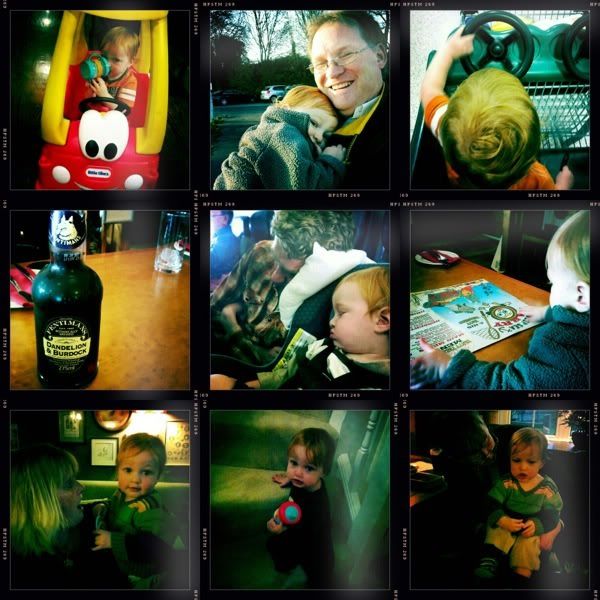 *Henry making off in his friend Harper's car
*Cozying up to Uncle Andy
*Driving the car/cart like a madman at Publix
*Dandelion & Burdock- one of Will's many UK favorites
*Two passed out boys on the plane
*Trying to decide whether to color on or rip up the child's placemat at Harry Ramsdens
*Now cozying up to Auntie Cheryl
*Climbing the forbidden stairs at Uncle Andy & Auntie Cheryl's house. If I had a dollar for every time we had to fetch him off of these...
*Taking a break in Granddad's lap
Have a great week!