The passing of time is so strange, completely altered by the circumstances your find yourself in and how those circumstances affect your perception. On a slow day at work, 9 hours can seem like 90. When you're rushing around the house like a madwoman trying to get things done while the offspring naps, 2 hours can seem like 2 minutes. Wibbly wobbly timey wimey stuff.
Exactly three years ago today, after a long shift at work, I changed clothes and headed towards the Logan's Roadhouse I passed every day on my way home. I was headed there to meet someone for dinner- someone I had never met before in person. But there had been
lots
of emails. Hilarious emails that made me laugh out loud when I read them. That's always a good sign.
Now, here we are three years later. We have a home together and a beautiful ginger-haired boy together. We could be an amazing commercial for
Match.com
. These three years have flown by, as they often do when you're having fun, but at the same time I feel like I have known this man my entire life. I am so thankful.
Ten days ago, just before the new year, this same man and our beautiful boy came to visit me at work. But I didn't know they were coming. In an unusually sneaky fashion he had some of my co-workers sneak him into one of the exam rooms at the clinic.
I was rushing around from one room to the next, trying to get caught up on a busy morning. One of the nurses came up and told me that the parents of one of my patients had more questions about their discharge instructions, and she had put them in Room 11, could I please go in there?
One thing I really try to do with my patients is to try to take the time to teach them what to do once they leave the clinic. So even though I knew it would put me even further behind, in I went. But what I saw when I entered the room was not what I was expecting at all.
Henry was running around the room in his usual Henry fashion. Taken aback, Will says I said "Henry, what are you doing here?". Then, changing the direction of my glance, I saw Will. But he wasn't standing. He was down on one knee. And he was holding this.
My Brit did good, didn't he? And of course I said yes! Looks like we're going to make this thing official! We both came out of the exam room, grinning ear to ear, to find all of my co-workers standing in the hallway- and they were also grinning ear to ear. The proposal, or the ring, could not have been more perfect. And to have all the people I love working with so much play a role in Will's plan made it even more special.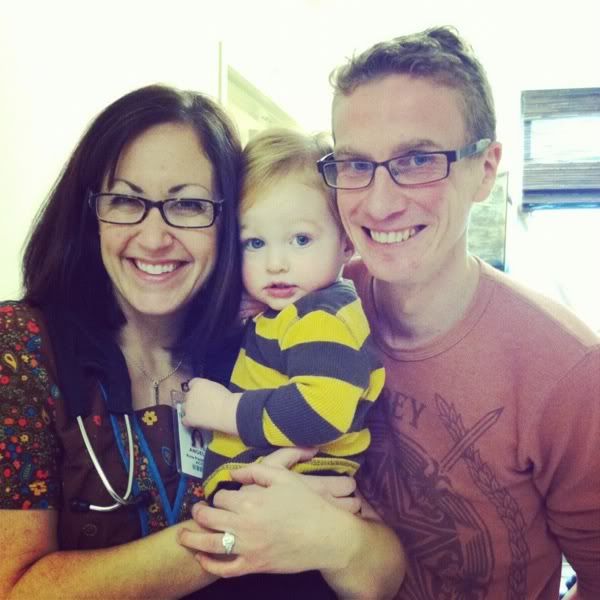 So 2012 has big things in store for our family. Even though we're only a few days into the new year it's already reminding us of how much we have to be thankful for. Henry is thankful for spaghetti night (and for rogue head-landing noodles).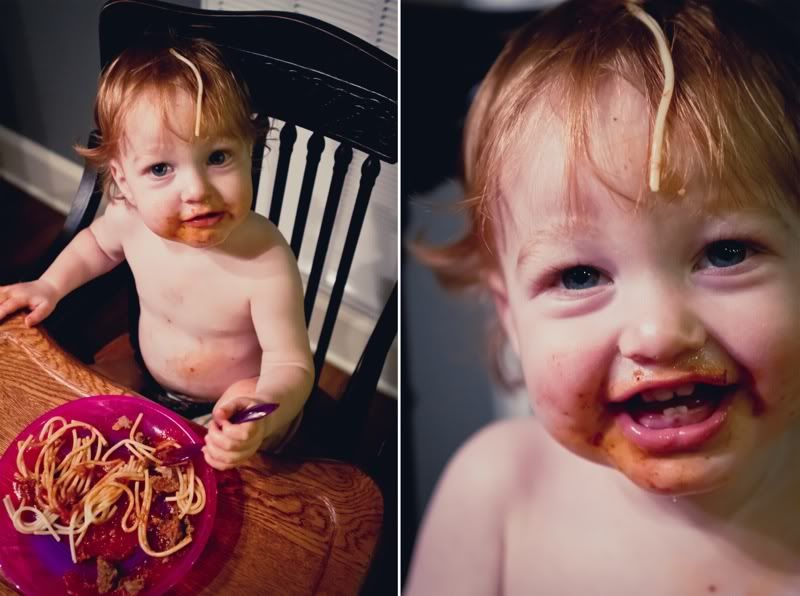 Will and I are thankful for being able to bring in the new year playing Rock Band with old friends. And for friends who come over on New Year's Day for beer and chili.
It only sweetens the deal that they bring their adorable little boy along as well- and at bedtime I got to read stories with, not one, but
two
sweet little redheads on my lap. I can't think of a better way to start off 2012.
*thanks to our wonderful friend
Sarah
for the last three photos of today's entry (and for providing additional ginger-haired boy)*