Rarely does a month go by that our mailbox does not hold a package addressed directly to Henry. Oh and he
knows
that it will be there. He anticipates. When we come in with the mail he asks us "
is dere anyfing for me??
" and boy does his face light up when there is something for him. How can you resist elation when Uncle Andy sends you packages that contains such an amazing wonder as a fez? The Doctor is in.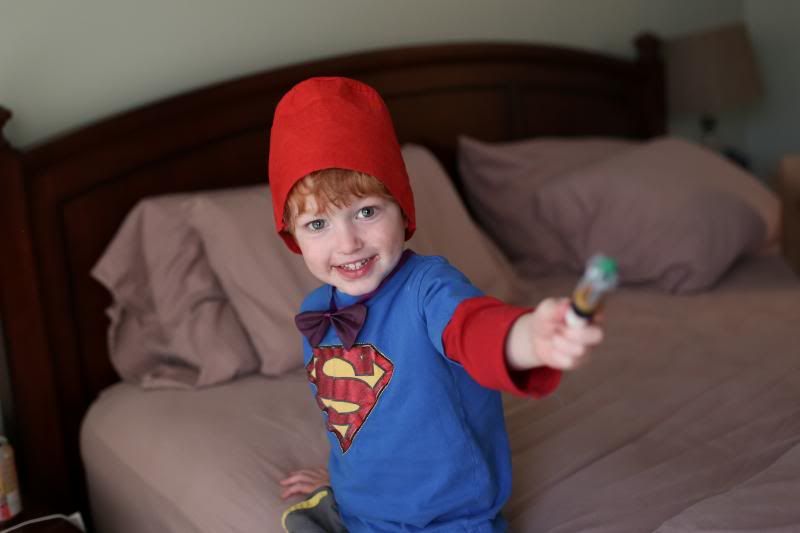 For the few who are in our circle who don't know, the eldest member of our clan is a
big
Doctor Who
fan (and has been since he was only a little older than Henry!) and his affection for the Doctor has definitely rubbed off on his son.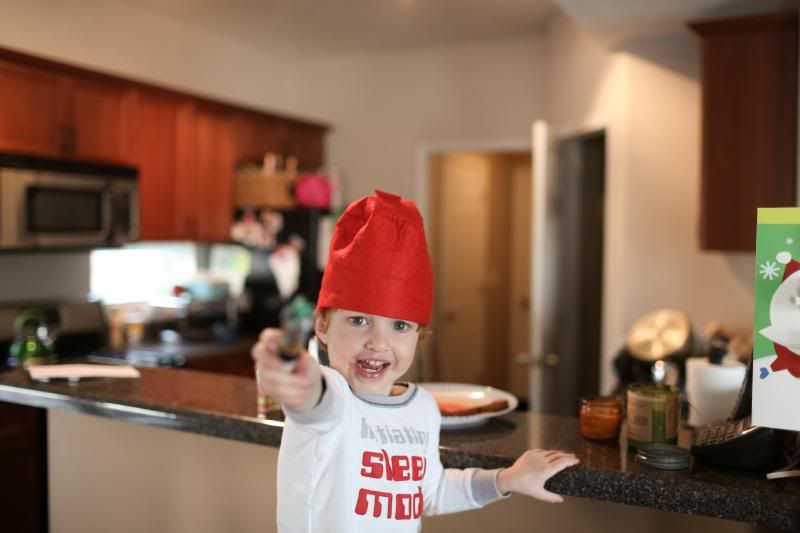 Honestly, Henry has pretty much lived in anticipation all month. Anticipation about where "Shelf" might be every morning (
if
his poorly focused parents remembered to move him!). Anticipation about advent calendars. And "practicing" his Christmas morning routine with Daddy in anticipation of Santa's visit (get up out of bed! run downstairs! check milk/mince pie to see if Santa ate it! check carrot/water to see if Reindeer ate it! then look under tree!). This year, Henry has just
really
reintroduced Will and I to the magic of Christmas.
I don't think I made
one
trip to Target in the last 2 months that I managed to escape visiting the seasonal decor department. That new red & green, sparkly & glittering section at the back of the store, beckoning with all it's flashy lights, was just too much for a 3 year old to resist. Henry loved it (and I didn't hate it either!). Although we browsed on multiple occasions, we really only bought a couple of stocking stuffers for Daddy and
one
other thing. I really wasn't sure how well toddlers and gingerbread house construction would mix- but I have to say that Henry kind of surprised us! He was in charge of candy placement. He was a hard and proud worker (when he wasn't sneaking a candy into his mouth) and it was so much fun.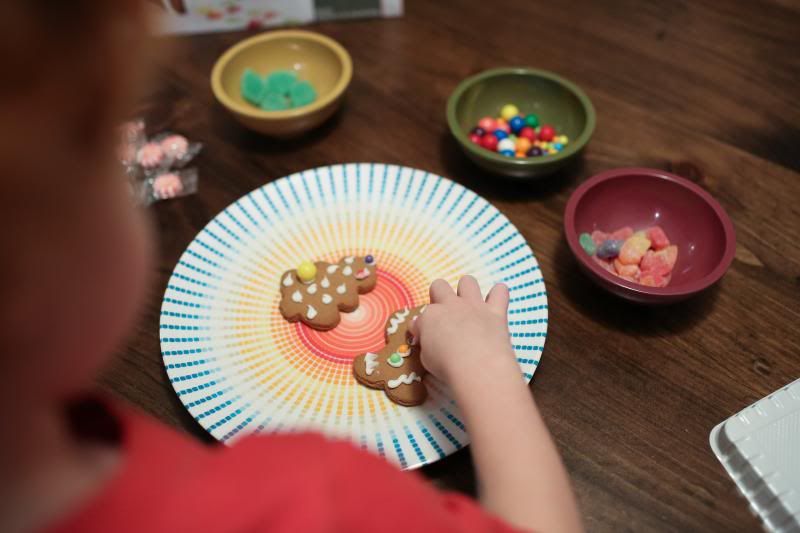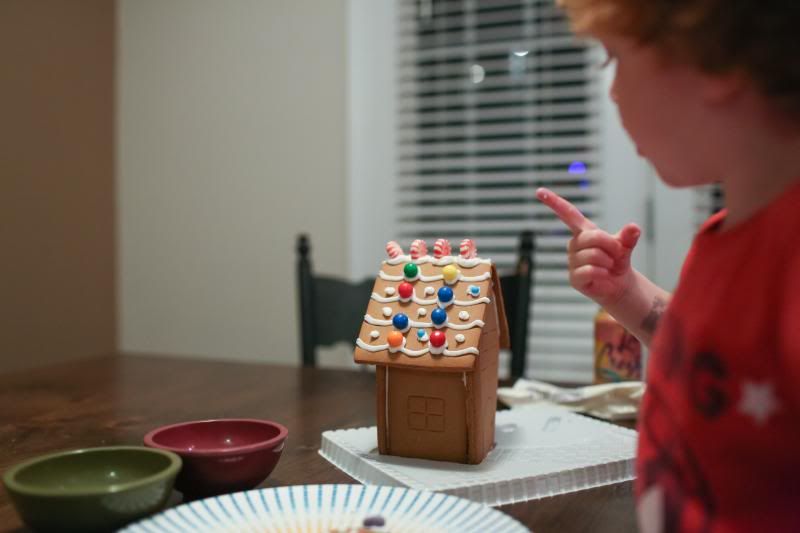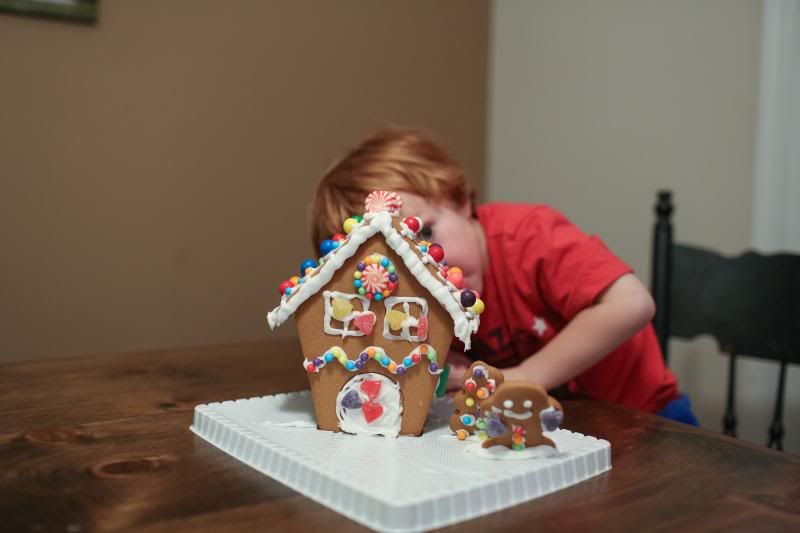 Santa preparation on Christmas Eve was another event that was highly anticipated by the Zuill boys. And the Zuill girl. There were lots of things to do- like letter writing and Santa tracking.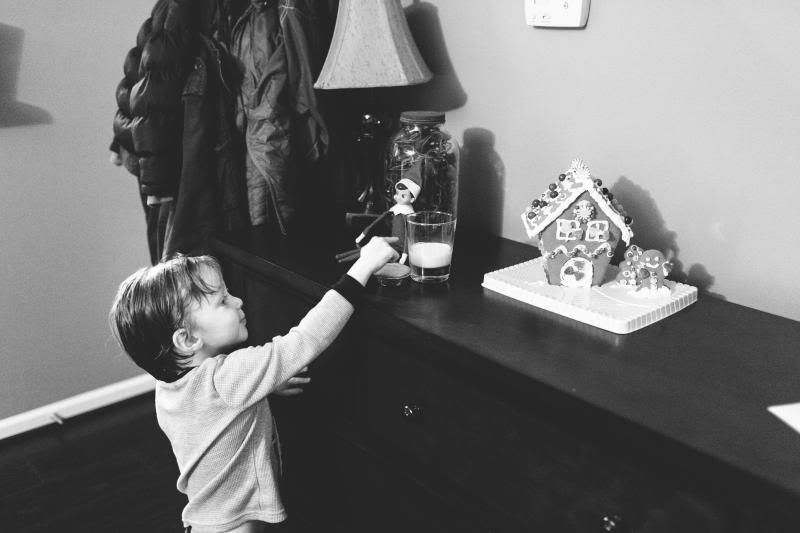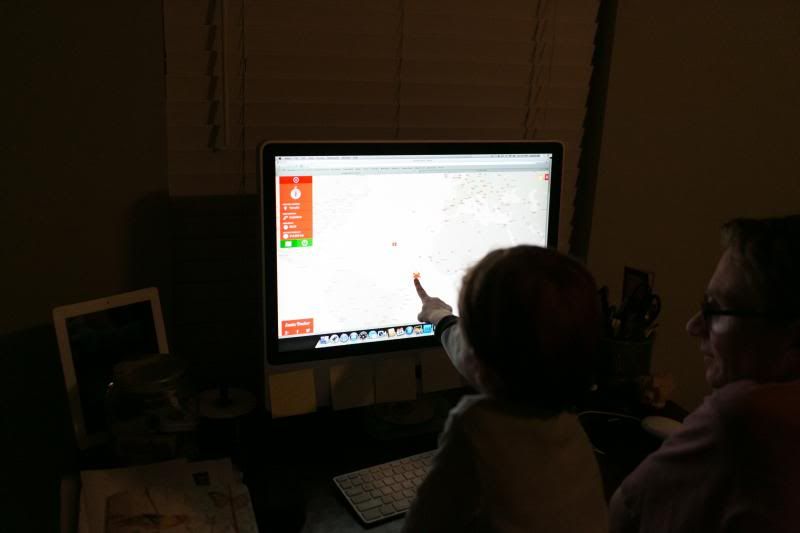 We were amazed that we got Henry to sleep fairly easily on Christmas Eve. We were also amazed that we put together Henry's kitchen from Santa with not one part left over. And no cursing. And only two glasses of wine.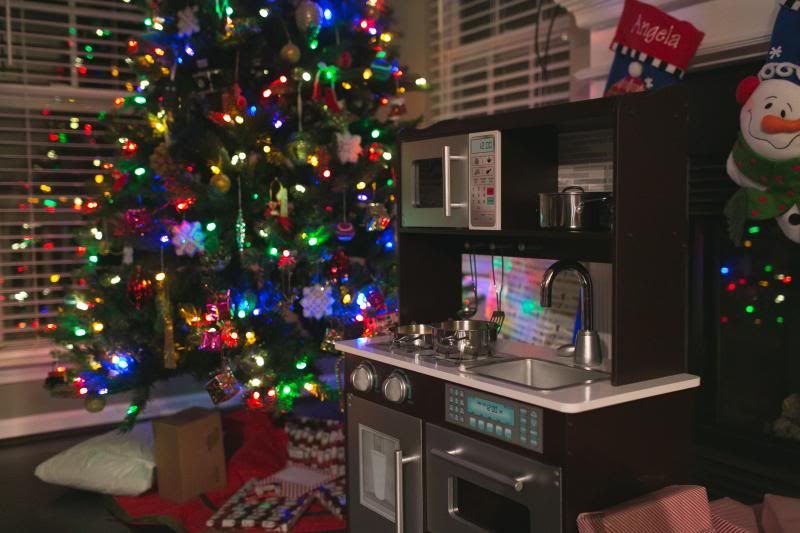 Christmas morning was fantastic. Henry was so excited! I honestly do not have one photo of Henry's first peek under the tree on Christmas morning because I was so swept up in his excitement that I totally forgot to get the camera. And I think that's a good sign.
I did come to my senses, however, in time to grab a few shots of him opening his gifts from his aunts and uncles in the UK- and he loved his gifts!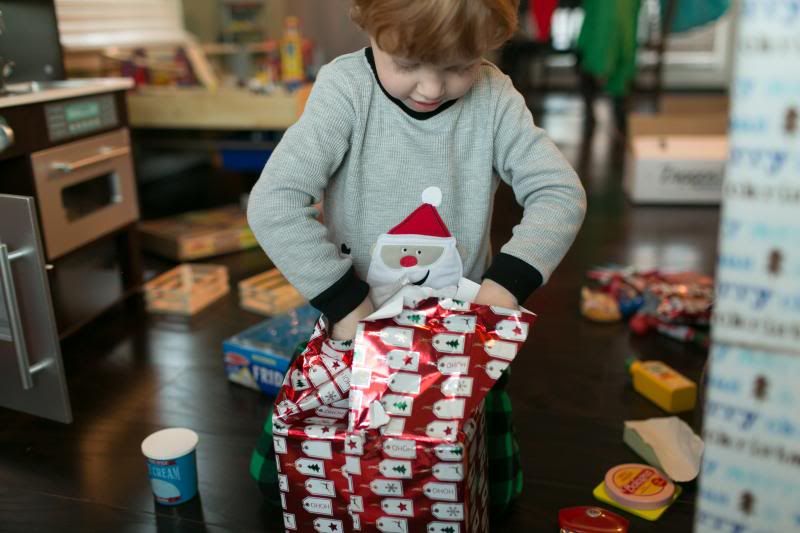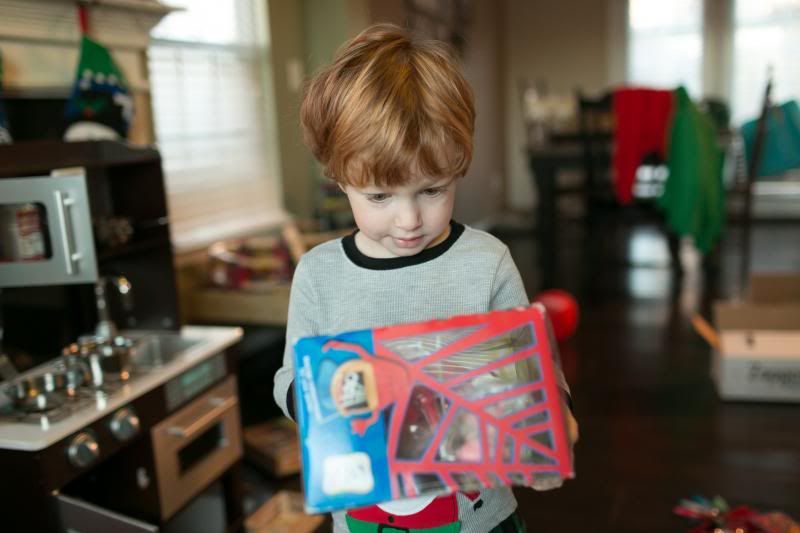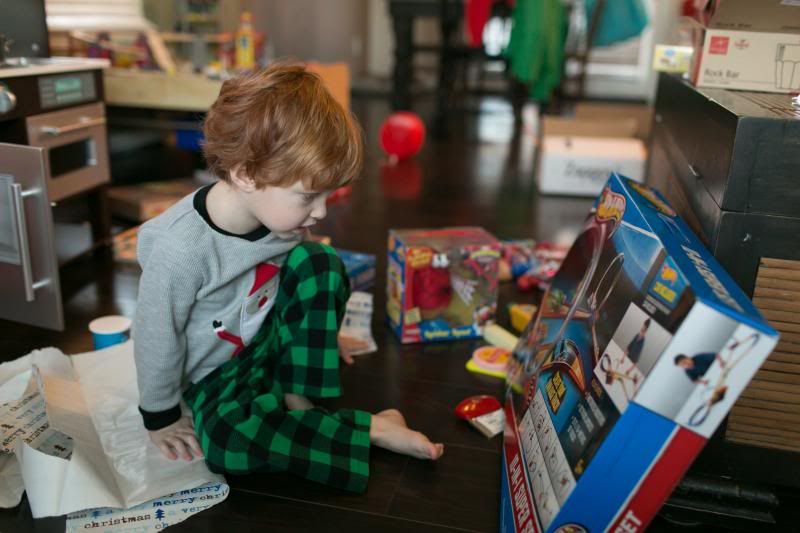 As we do every year, after Santa time at our house we went to my brother's house for a little time with this questionable crew.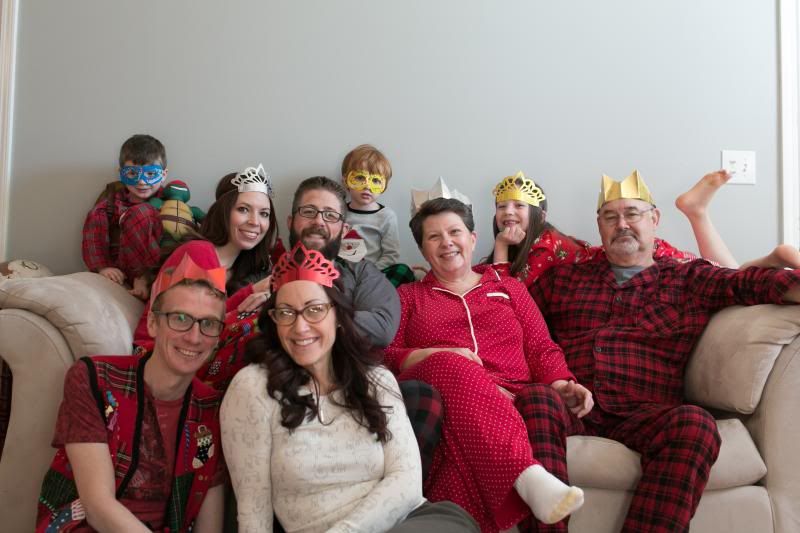 Ella Grace met us at the door wearing a most interesting contraption. Apparently, interesting apparel was the theme for Christmas this year. I have to say that my Brit absolutely rocked my mom's 20 year old Christmas sweater vest. That takes talent.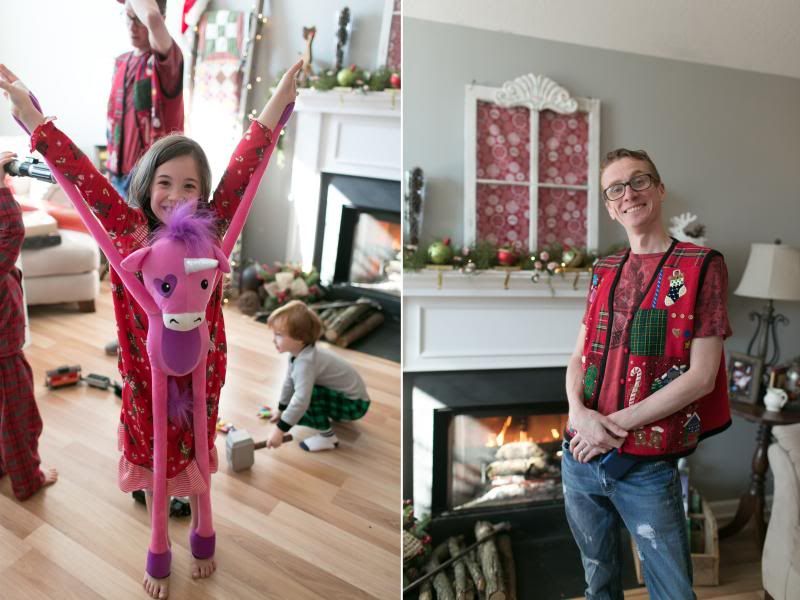 We start the day with an unbelievable country breakfast (complete with chocolate gravy and southern accents). But certain British traditions have slowly starting intertwining themselves with our Tennessee ones. Will introduced my family to
Christmas Crackers
a few years ago. They are about a foot long and look like a giant piece of wrapped candy. You pull each end, wait for a "pop" and then grab the prizes that were tucked away inside. Typically what you get is a silly Christmas hat, a joke, and if you're lucky a pair of nail clippers. Seriously, they are so much fun. This year I managed to find the biggest Christmas Cracker in existence.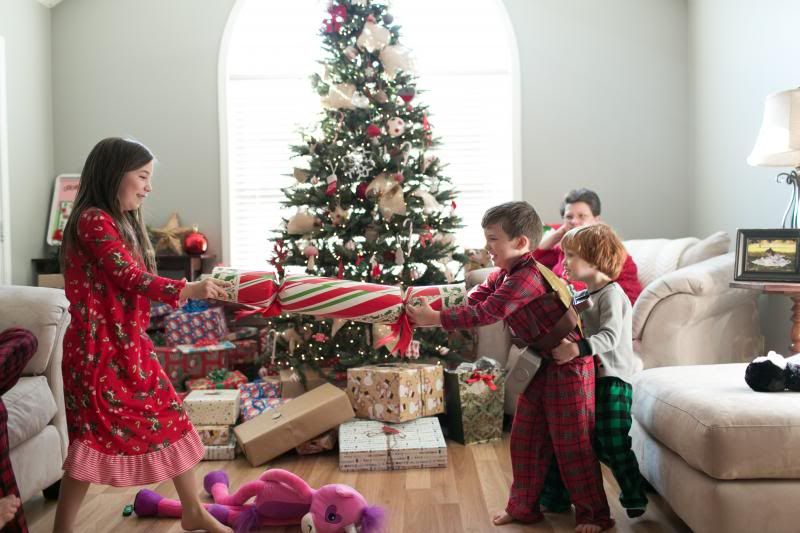 The ridiculous hats were still the same size though.
I love Christmas day with my family. Nobody is on a schedule and there is nowhere to be except just with each other. It's so nice. And as at any house, I'm sure, the kids are definitely the star of the show. They're so entertaining to watch.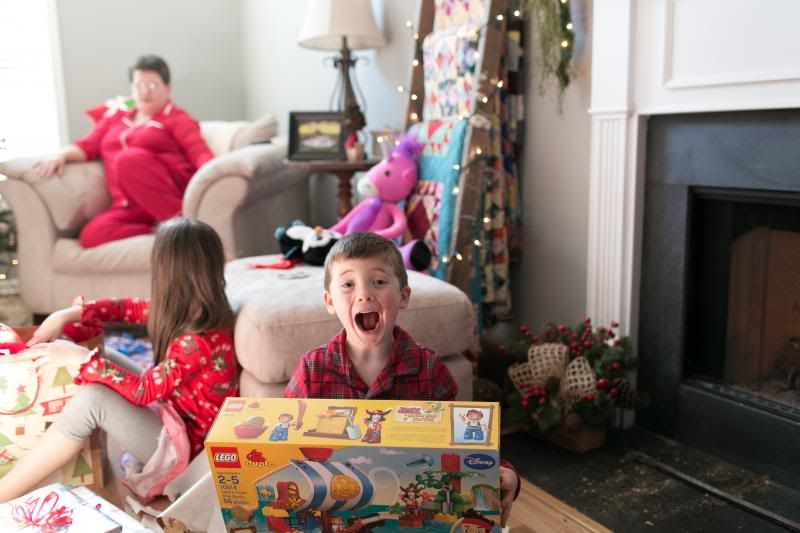 And you can't call it a day until you've schooled the young ins' on how to play a proper game of Operation.
It's so hard to believe it's time for 2013 to come to an end. I just have a feeling that 2014 has a lot of good things in store for us and we can't wait to welcome it! Happy New Year!